The Step on the Neck Legend
The story that enraged Martin Luther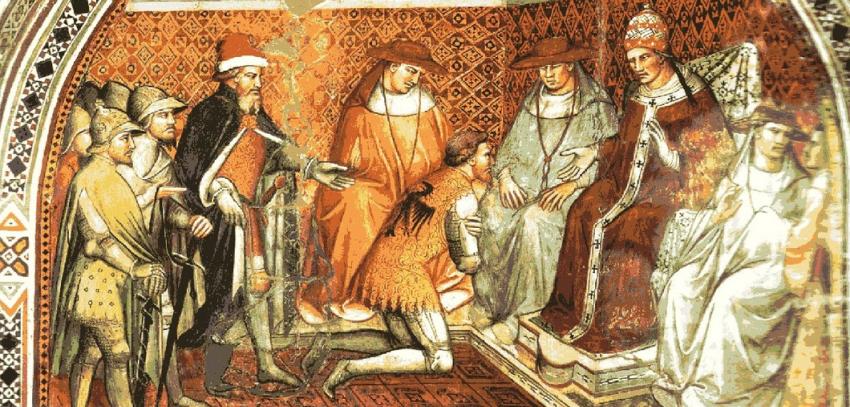 Modern historians pooh-pooh this story, beloved by the Venetians, as apocryphal, but it was widely believed by German humanists in the 16th century. In 1545, Martin Luther wrote a pamphlet entitled The Pope's Threat which offered the German point of view of the famous incident that took place in the narthex of St Mark's Basilica in 1177:
Upon returning from his crusade, which culminated in the capture of Jerusalem, Frederick Barbarossa opened a new just war, this time against the pope. He was determined to wreak vengeance on Alexander III who had betrayed him into a yearlong captivity at the court of the sultan in Armenia.
Alexander, who had already excommunicated Barbarossa for erecting an antipope Victor, smarted from the defeat of his anti-imperial Lombard league and was jealous of the emperor's piety, secretly had a portrait of Barbarossa painted and sent to the sultan with a plea to murder him. But the sultan, so moved by the Christian witness of the pious Barbarossa, released him upon his pledge to ransom his chaplain.
Frederick's Italian campaign enjoyed resounding success as Alexander was put to flight, having to disguise himself as a baker in order to make good his escape to Venice. But before Barbarossa could reach Venice, his son, Otto, in charge of the siege of Venice, was captured due in part to Otto's youthful impetuousness, but mostly due to Alexander's treachery.
Barbarossa wanted the Venetians to pay dearly for their complicity, yet cooler counsel prevailed on the pious emperor to seek Alexander's forgiveness for his son's sake. Therefore Barbarossa presented himself to the pope and respectfully prostrated himself. But Alexander stepped on Barbarossa's neck saying, "It is written: 'On the serpents and reptiles will you walk and tread on the lion and the dragon.'
To which Barbarossa replied: 'I do this not for you, but for Peter.'
So the pope, a treacherous politician and unchristian Italian, humiliated the emperor, a mighty soldier and pious German.
But Luther neglected to say, that at least according to legend, the Pope had the last word, hissing back: 'For me and St Peter.'