Around Santi Apostoli
With some well known palazzi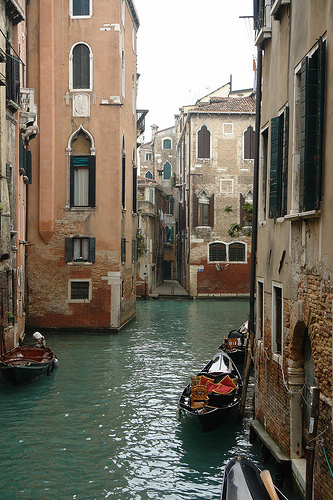 From the bridge spanning the Rio dei Santi Apostoli (to the right of the façade of SS. Apostoli) you have a good view of the Veneto-Byzantine Palazzo Falier (now the Hotel Antico Doge) with its portico, begun in the 13th century; this was the family home of the traitor Doge Marin Falier, deprived of his head in 1355. Its neighbour to the west, facing the Grand Canal and one of its oldest surviving palaces, is the Ca' da Mosto.
From the church of Santi Apostoli, walk all along its flank to its apse and along Calle di Manganer to Campiello di Cason and Calle di Malavasia; the palazzo just before Ponte San Canzian was once the Ca' Strozzi, a possession of the famous and fabulously wealthy Florentine Renaissance family, who may have produced the Baroque painter Bernardo Strozzi, and more surely the composer and musician Barbara Strozzi.
Later in the 18th-century, the palazzo belonged to Amadeo Svayer and David Weber, two German antiquarians, merchants, art collectors and bibliophiles, who covered it inside and out with their collections. All that is left are the fragments of ancient Greek reliefs on the side facing the bridge. The first one, a battered figure and a wheel, would have been a scene of Hades carrying off Persephone in his chariot.
Over the bridge is San Canciano. Adjacent, Campiello B. Crovato gives into Campo Santa Maria Nova. In neighbouring Campiello S. Maria Nova, note the fellow holding a solar disc, an example of 16th-century classicizing on the façade of the Gothic Palazzo Bembo-Boldù.