Giovanni Bellini
Master of luminosity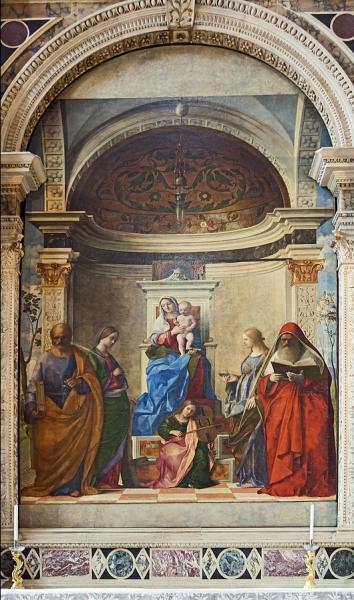 'Giambellino', (c. 1431– 1516), son of Jacopo and younger brother of Gentile was the greatest early Renaissance painter of northern Italy.
Giovanni Bellini combined all the new influences and techniques that flowed into Venice in the 15th century: the lush oil techniques of Antonello di Messina, the drawing and perspective of his brother-in-law Andrea Mantegna and the landscape painting of Cima da Conegliano to create some of the most lyrical, sensually poetic art of the Renaissance, all bathed in an iridescent rich golden autumnal light.
As a Venetian, living in the 'marketplace of the world' and centre of the European pigment trade, he was able to get his brush into the most gorgeous expensive colours: the deep blue of ground lapis lazuli from Afghanistan, ground gold, saffron and 'Venetian red' made from the red earth of the Veneto.
Throughout his long career, Bellini never stopped experimenting, seeking new responses to nature and light and colour and atmosphere. Even into his 80s he influenced (and was influenced by) his pupils, Titian and Giorgione. His Madonnas and Saints are at once ideal and human, noble and tender, warmed by the liquid sun, never striving to outdo or out-scale nature. And it is this very empathy and sense of human measure that makes Bellini's angels divine.
No artist before him painted with such sensitivity to light, atmosphere, colour and nature; none since has approached the magical tenderness that makes his paintings transcendent (masterpieces in the Accademia, San Zaccaria, the Frari and San Pietro Martire on Murano). Also see Santi Giovanni e Paolo, the Fondazione Querini-Stampalia, San Francesco della Vigna, the Museo Correr, San Giovanni Crisostomo (one of his last paintings), and the Madonna dell'Orto.