Veronica Franco
Poet and courtesan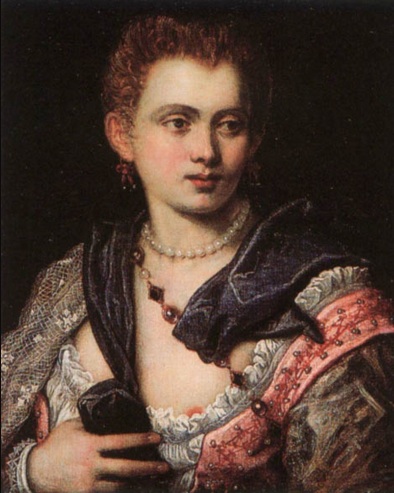 Veronica Franco (1546-1591), was a famous Renaissance courtesan and poet, the daughter of a courtesan. She had three brothers and was educated along with them, and married briefly to a doctor whom she soon divorced.
Franco was the ideal Venetian Renaissance courtesan: well read, wise, fair and reasonable, a sparkling conversationalist and familiar with the classics, able to play the lute and spinet. She would go on to have six children by different men, three of whom survived childhood.
She began writing poetry, and attended the literary salon of her friend and patron Domenico Venier in the 1570s. In 1575 she published 17 poems in her Terze Rime, about her life as a courtesan, frankly discussing sex and defending women from men who would attack and belittle them; she also challenges the Petrarchian ideal of the distant, fickle, unattainable beloved, promoting conversation between the sexes.
The sea itself yearns toward this city's realm
Holds turbulences off from it
While winding through its Eminence
Composed upon a water-woven throne-
A maze of intersecting liquid ways
An endless plan of serviceable paths
Franco also published a book of letters that described her daily life, including one thanking Tintoretto for painting her portrait. She had many friends among the movers and shakers, but fell afoul of the Inquisition in 1580 when her son's tutor accused her of practising magic. Although she was acquitted of the charges, her reputation declined afterwards, but not before she founded Santa Maria del Soccorso for destitute former prostitutes, after petitioning the Republic and her wealthy friends for funding. She died at age 45, poor and obscure.
Veronica Franco is the subject of The Honest Courtesan by Margaret Rosenthal, and the 1998 film Dangerous Beauty, with a number of scenes filmed in Venice.