Via Giuseppe Garibaldi
Once home of the Cabots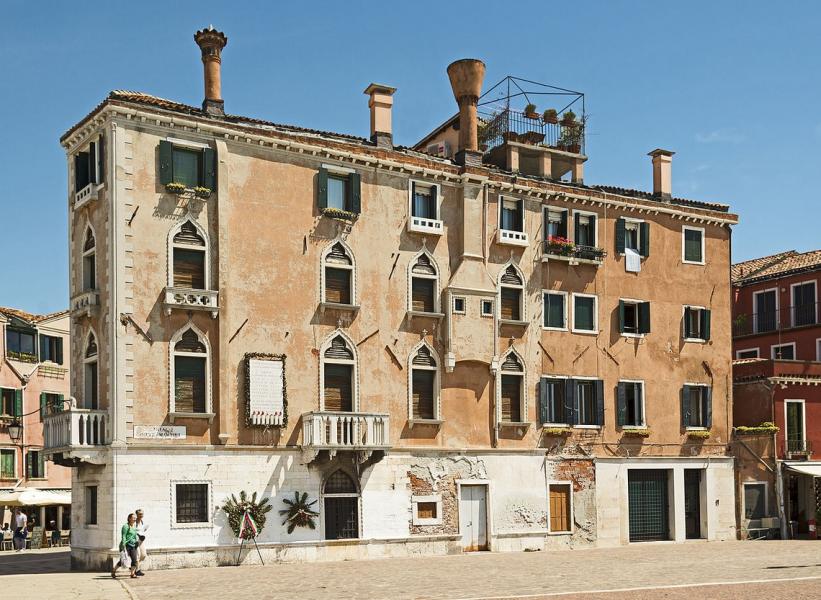 Broad Via Giuseppe Garibaldi almost seems out of place in Venice, but makes sense when you realize it was a wide canal before the Napoleonic government filled it in. Its most famous residents, remembered by a plaque near the western end of the street, would have been shocked, because like so many Venetians they lived on and made their fame and fortune on boats.
Giovanni Caboto, or Zuan Chabotto in Venetian dialect (c. 1450-98) was brought to Venice from Genoa (or some say Gaeta, near Naples) as a child. He married a Venetian and had several sons, including Sebastiano (c.1474-1557). After living in Venice for 15 years, Giovanni became a citizen and like any good Venetian became a merchant trading in the Mediterranean. In 1488, however, he fell into debt and escaped his creditors by moving his family to Spain. There, inspired by Columbus (ten years his junior) he sought money from the Spanish Crown to discover a possible route to the Indies. His idea, however, was to sail north instead of south. But Isabella and Ferdinand remained unconvinced.
By 1495, the Cabot family was Bristol, where Giovanni (now John) at last found backers: Florentine bankers in London and King Henry VII, who granted the Cabots letters of patent. During their voyage, the Cabots became the first known Europeans since Leif Erikson to land in North America on 24 June, 1497. They claimed Nova Scotia and Newfoundland for the English crown (although the Venetians will tell you that on landing they planted the Lion of St Mark instead of flag of St George).
Sebastian Cabot sailed at least twice more for England, probably reaching Hudson Bay in his search for the elusive Northwest Passage. He later went to Spain, hoping to find funding there, while all the while maintaining a secret communication with the Council of Ten in his native Venice, trying in vain to interest it in sponsoring a voyage through the Northwest Passage to the Far East.
In 1522, Sebastian made at least one other voyage, this time sailing for Spain. He was supposed to repeat Magellan's voyage and determine the precise line of demarcation between Spanish and Portuguese claims in the New World. Rather than obey orders, he was seduced by tales of Inca gold and riches in the Rio de la Plata, put down a mutiny of his officers by marooning them and spent five months exploring. He founded the first settlements in modern Argentina and Uruguay.
On his return to Spain, Cabot was fined and banished by the Council of the Indies, although the punishment was never carried out, and he ended up back in England, working as a consultant for other expeditions seeking the Northwest Passage. Even in the 1550s, not long before he died, Cabot tried again to interest Venice in a venture, but by then the Venetians were looking inward, building villas on the terra firma and cultivating their gardens.
Elsewhere along Via Garibaldi
Continuing east down Via Garibaldi, is the church of San Francesco di Paola and the Fondamenta S. Gioacchino, the part of Via Garibaldi that is still a canal; the market moved here from the nearby Fondamenta della Tana long ago, and in the morning this area is a convivial jumble of ragged awnings and fruit crates, red-nosed market ladies and furtive tomcats, the most old-fashioned and least touristy corner of all Venice.
Follow Fondamenta S. Gioacchino east (left) over a bridge. Turn left at the next bridge, down Calle S. Gioacchino; this leads into the charming little canal, Rio Riello.
At the end of Via Garibaldi, a bridge crosses to the remote island of San Pietro, surrounded by boatyards. Excavations have revealed the foundations of a late Roman/ early Venetian settlement; its long-gone castle or Castello lent its name to the entire sestiere; its church of San Pietro di Castello was Venice's cathedral for centuries.