Sant' Elena
The last church in Venice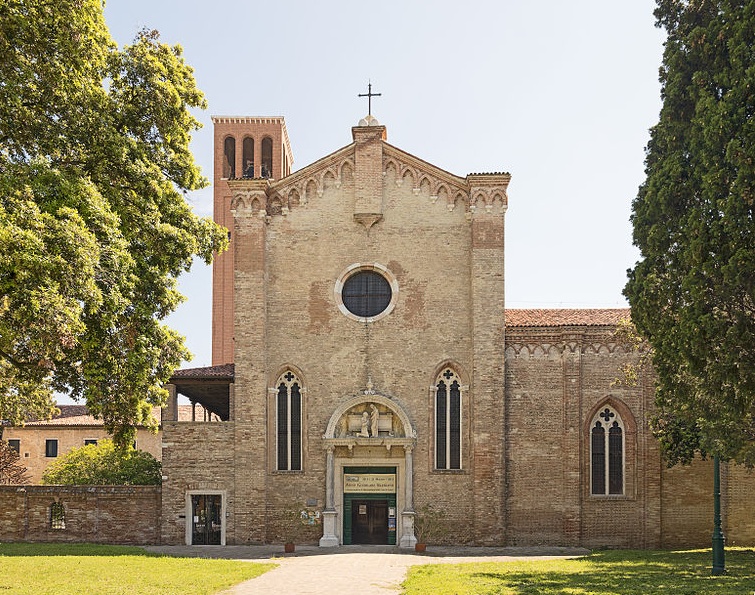 The mostly artificial Isola di Sant'Elena is Venice at its remotest. The lack of little canals winding in and out and the recent date of most of its buildings make it seem like an Italian 'Anywhere' miraculously delivered from the national plague of automobilitis.
Long an open meadow in front of a church and convent, the island was a fashionable 19th-century retreat for Sunday picnics and promenades until the Austrians began to expand it for a military parade ground. In the early 20th century land reclamation, the island grew and blocks of flats took over all of the meadow, except for the crescent of the Parco delle Rimembranze.
At the very eastern end of the island, the lonely church of Sant'Elena is hemmed in by the walls of a sports field and a naval college. Venice picked up the body of Constantine's mother Helen in the great 13th-century haul of Eastern booty. As one of the chief saints of the Eastern church, Helen's relics merited their own church; the present Gothic version was designed by Giacomo Celega and built in 1435-39 for Olivetan monks.
Although one of Venice's chief religious houses, Santa Elena was deconsecrated by Napoleon in 1807, who hauled off over a hundred works of art; the Austrians added insult to injury by using it variously as a bakery and a foundry. At one point there were even plans to turn the island into a factory producing railway carriages, a plan noisily opposed by Robert Browning, who supported William Morris and his campaign to protect historic Venice.
The church was restored in 1915, reconsecrated in 1929 it was, and in 1958 it was given a brand new campanile. You can see its finest surviving work of art right in front: Antonio Rizzo's monumental Doorway Dedicated to Comandante Vittore Cappello, Kneeling Before St Helen (1470s), celebrated for the naturalism of the Comandante's expression.
In contrast to the doorway, the rest of Sant'Elena's façade is severe but handsome, its narrow elevation relieved by the chapels on the right and the cloister on the left. Some of the paintings that once filled it are in the Accademia, and it is often called into serve as art space during the Biennale.
Hours Mon-Sat 5-7pm
Adm Free
vaporetto: Sant' Elena