Elena Lucrezia Cornaro Piscopia
The prodigy of Venice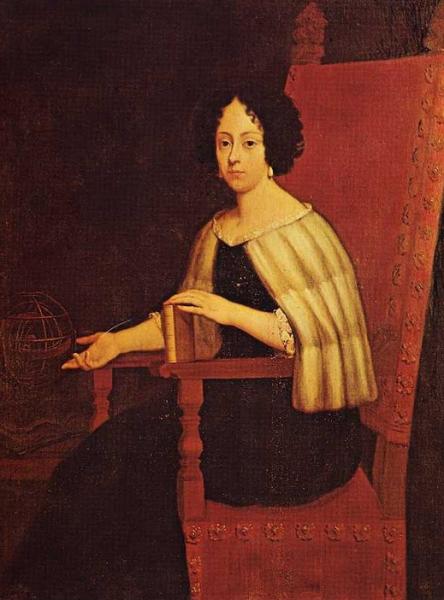 Compared to Florence, Venice was not known for producing great scholars and academics, and one of its best known just happened to be a woman: the first ever to receive a PhD.
Elena Lucrezia Cornaro Piscopia (1646–1684) was born in the Palazzo Loredan, daughter of an enlightened nobleman, Giovanni Battista Cornaro-Piscopia, a Procurator of St Mark's, whose grandfather was a friend of Galileo's, and whose father studied physics.
And unlike most patricians, he married for love. Zanetta Boni was of such low birth that Giovanni Battista had to pay a large sum for his sons to enter the Libro d'Or and join the Venetian nobility. But little Elena was the precocious one; a priest noticed she was exceptionally bright, and suggested she study Latin and Greek, which she mastered by age seven, before going on to learn Hebrew, Spanish, French and Arabic, earning the nickname the 'Oraculum Septilingue'. She went on to study sciences, mathematics and astronomy, philosophy and theology, excelled on the harpsichord, clavichord, harp, and violin, and composed music. At age 19 she took vows as a Benedictine Oblate, but without becoming a nun.
Her proud father encouraged her to attend the University of Padua. Although her request to take a doctorate degree in theology was denied because of her sex, in spite of her father putting pressure on the bishop of Padua (the Church's attitude, in fact, didn't really change until the 20th century), she was eventually allowed to apply for a Doctorate in Philosophy, earning the titles of magistra and doctrix on 25 June 1678 at age 32, after an impressive display of scholarship in Padua's cathedral, explaining randomly chosen passages from Aristotle in Latin before a great body of scholars from around Europe and Venetian senators.
Cornaro-Piscopia belonged to many learned societies, and kept up a correspondance with leading intellectuals of the time, devoting the rest of her short life to study and charity, in spite of poor health. She died of tuberculosis, only 38 years old, and was buried in Padua's church of Santa Giustina.
As one of the first women ever to earn a doctorate degree, it would be nice to say that Cornaro-Piscopia served as a model for other Venetian women, but it wouldn't be true. After her death, the University of Padua (and the other universities across Italy) banned the practice of granting degrees to women—the next woman allowed to study for one was Laura Bassi at the University of Bologna, in 1732.
For more on her life, see Jane Smith Guernsey's The Lady Cornaro: Pride and Prodigy of Venice (1999).