Eating and Drinking
Venetian cuisine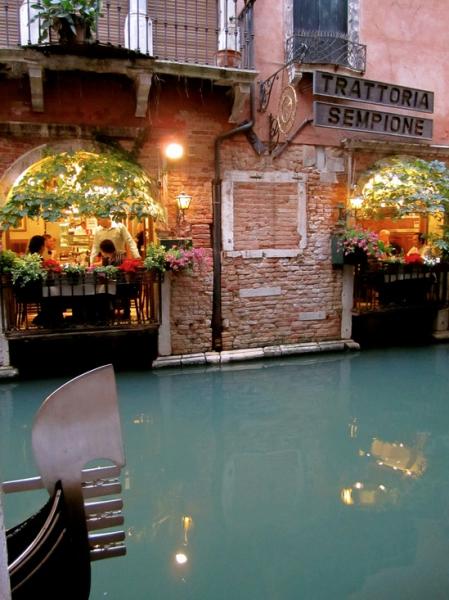 Among the panoply of pleasures that were celebrated in Venice, food and drink naturally played an important role, so much so as to encourage gastronomic voyeurism; there are paintings of lavish feasts in theatres, with a full audience on hand to watch the toffs eat in style. There are tales of the legendary Doge Andrea Gritti, of Henry VIII-ish appetites, eating himself to death, and others of entire table settings, including the napkins, sculpted of sugar, once worth its weight in gold. Oysters were served with gilded shells.
It does certainly seem that style, novelty and quantity were more important than quality, which is rarely mentioned: the wine (especially the swill served in the cheap inns or malvasie), was condemned , even by English visitors, for its 'pall'd disgustful Taste'. As for the bread, 'Even when fresh [...] could be so dry and solid that you had to take a hammer to it'. Perhaps most damning of all, Venetians housewives not only didn't make their own pasta, but bought it ready boiled from shops.
Restaurants
In some Venetian restaurants, the pasta might be improved had it been bought ready boiled. As with any popular destination, especially one visited by 11 million day trippers a year, restaurants have little incentive to try anything beyond a basic menu turistico.
That said, there are many good places to eat, although you'll have to seek them out. There are plenty of websites dedicated to restaurants and bars in Venice, that do a much better and more up-to-date job than we ever could: see Tripadvisor and Michelin Guide. Slow Food has recently put out a useful app, with in-app purchases of restaurant recommendations for various Italian regions.
Venetian Cuisine
In spite of the lavish feasts and Last Suppers in Venetian Renaissance paintings, people, even the patricians, tended to have simple, austere diets.
Fish and shell fish, naturally, were abundant but not known for being tasty: soft shelled crabs,moleche or mo'eca in Venetian, are caught in spring and fall when they lose their shells; generally soaked in egg and flour and deep fried. Sardines were often served as sarde alla saor, a method derived from Jewish cuisine that preserves the fish in vinegar, oil and onions, and sometimes with saffron, or pine nuts and raisins. and baccalà alla vicentina, a dish invented after the Norwegian adventures of Pietro Querini.
Duck and formerly geese from the lagoon were other mainstays. The traditional pasta of Venice, bigoli is fat spaghetti as thick as knitting needles. In the old days they were made of buckwheat and duck eggs, but today they're usually made from wheat or whole wheat. Classic preparations include bigoli con l'arna cooked in a duck broth, and served in a sauce flavoured with its giblets, or bigoli in salsa with a sauce of butter, garlic, parsley, onions, and anchovy fillets. During Lent the Venetians hunted and ate cormorants, classifying the birds as 'fish' because they spent so much time underwater.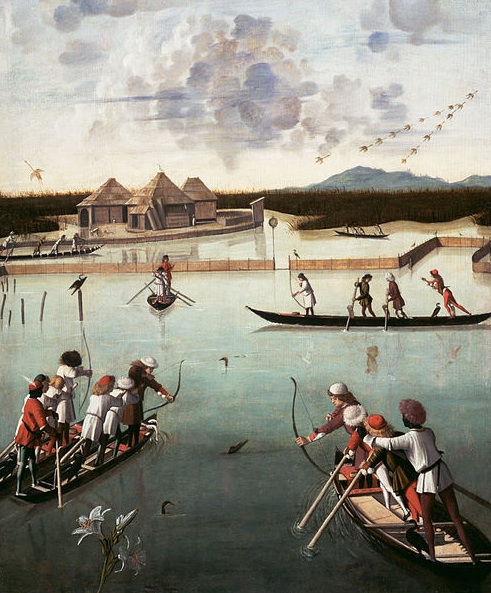 Rice was introduced in the late 15th century, the origin of the popular classic risi e bisi (rice and peas. Perhaps one reason why Venetian housewives didn't make pasta is because polenta was the more popular staple by the mid 16th century, when Venice's squire farmers in their terra firma villas discovered that maize from the New World thrived in the warm, well-watered Veneto plains.
Liver and onions is a classic dish. Produce still coms from the islands of the lagoon, including some famous artichokes are grown on Sant'Erasmus, Chioggia has leant its name to a festive looking beetroot, with concentric red and white stripes inside.
DRINKS
It's logical that Venice should be the only place in Italy where the 'tapa' idea took hold; even in the Middle Ages, Venetians were too busy to ever cook. And as in Spain, cicchetti had a popular, working-class origin that have since become fancy and yuppified.
Bars called bàcari are the place to look for them. Cicchetti are mostly what you would find for antipasti: every sort of seafood, salame and cheeses, olives and just about anything on a small bit of bread or toast, ideally accompanied by a glass of white wine, or an ombra ('shadow') as the Venetians call it, remembering the late 14th-century time when the wine merchants in Piazza San Marco moved into shadow of the campanile.
In the Middle Ages, most of Venice's wine came from its colonies in the Aegean (the name of the city's favourite plonk, malvasia, is derived from the Peloponnesian town of Monemvasia). Other wines came from Verona, increasingly after the 15th and 16th-century wars against the Ottomans limited access to the Serenissima's old ports. Although once dismissed as pizzeria wines, all have been greatly improved over recent years: light red Bardolino and stronger red Valpolicella and dry, aged and most fashionable of all, Amarone.
Among white wines, look for crisp Soave and Bianco di Custoza grown in the Veneto's low alpine hills. And Prosecco, which has been around for centuries, although the light, dry bubbly we love today is also the result of massive improvements taken in the 1960s and 70s. It's the essential ingredient of a Bellini, the cocktail invented at Harry's Bar, and the refreshing Aperol Spritz: three parts Prosecco, two parts Aperol (bitter orange and herbs) splash of soda and half a slice of orange and ice.