Coffee and cake
Venetian essentials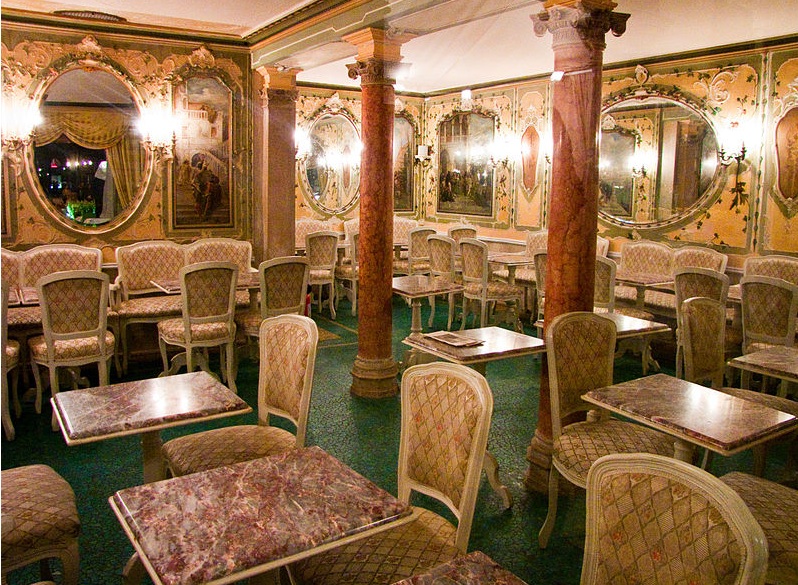 Back in 1640, Venice introduced the perky joys of caffeine to the West. Like Cocoa-Cola, kahvé was initially regarded as medicine and sold only in pharmacies, until 1720, when a certain Floriano Francesconi opened Europe's first 'boutique of coffee' in Piazza San Marco, modelled on the coffee houses of Istanbul and given the proud name of Venice Triumphant, but today known as Florian's.
Like many innovations, coffeehouses were once very risqué; Bach's light-hearted Kaffee Kantata is a dialogue between a young lady who wants to go to a café and her father, who forbids it. And if he were Venetian, he would have had good cause, for they were the favourite rendezvous for extra-marital shenanigans (Florian's was one of the first, anywhere, to admit women). Perhaps this is why, to this day, you always pay a lot more to sit down, especially at the three historic coffeehouses in Piazza San Marco: Florian's, Quadri (founded in 1775) and Lavena (founded in 1750), which have musicians to support from April to October, when pianos and occasionally even entire chamber music ensembles tinkle away on their terraces.
Often you can judge a place by its cakes. Take the sensuous if Cartesian rows of tarts and éclairs in a French patisserie, or the anal-retentive, not-a-crystal-of-sugar-out-of-place perfection in Austria, or the comforting brown buns and pies in a British bakery, or the American chain doughnut shops selling 100 kinds, 24 hours a day, or the Turkish predilection for exotic delights made of roses, quinces, almonds and pistachios, with names like 'Nippples in honey' or 'Ladies' thighs.'
And Venice? If you've never been, close your eyes and play psychogeographic-pastriologist for a moment. Imagine what awaits you in the most beautiful city on earth, for centuries the capital of the eastern spice trade, a centre of culture and delicate refinement, located midway between East and West, in close historical contact with the luscious Austro-Hungarian apricot and poppyseed strudel culture, and the chocolate, hazelnut and cream traditions of Northern Italy and Switzerland, with the honey and nut-laden confections of Greece and sinful masterpieces of Turkey.
Just imagine it. Venetian pastries must be nothing less than an elegant synthesis of ingredients and cultures as sublime and fantastical as St Mark's Basilica.
Now open your eyes and look in the window of the typical Venetian pasticceria and what do you see? Spotted shoe soles called panserotti or zaletti made of maize flour and laid out to dry in the sun; lengths of coarse braids called kranz with sultanas and whole almonds wedged in the cracks; miniature sarcophagi (alleanza alla frutta), filled with chunks of mummified candied fruit in Murano-glass colours; iron rings for mooring boats (bussolai Buranei); and crumbling bricks called pan di Dogi that looks as if they were rejected from the building site of the Great Pyramid. Not to mention a vile assortment of dehydrated brownish balls, possibly rolled by dung beetles.
What does it all mean? Could Venice really be a humble place behind its many complex facades? But sugar psychology aside, Venice's inept, inelegant cakes support a great historical truth: that Venetians, traditionally, can't cook.