Pantalone
From saint to trousers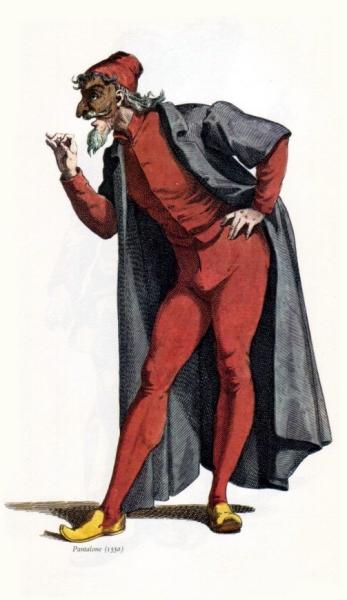 The sixth age shifts
Into the lean and slippered pantaloon
With spectacles on nose and pouch on side,
His youthful hose, well saved, a world too wide
For his shrunk shank, and his big manly voice,
Turning again toward childish treble, pipes
And whistles in his sound.Shakespeare, As You Like It
Venice played a key role in the origins and evolution of the Commedia dell'Arte, and produced one of its best-known stock characters; when Shakespeare's Jacques spoke of the seven ages of man, the 'pantaloon' was instantly recognizable.
Although his origins stretch back to antiquity, to the elderly god of the old year or of winter who dies in Carnival, Pantalone (or Pantaleone or Pantaloon) was named after the popular Venetian healing saint San Pantalon. Dressed in the traditional Venetian style all in red, with a woollen cap, black cape and Turkish slippers, his character or mask was that of an avaricious old merchant. He always spoke in Venetian dialect and walked bent over, protecting the pouch of money slung around his waist in an early version of the money belt. Under this, however, was an enormous codpiece, an attribute that goes back to ancient Greek comedy. would flirt (unsuccessfully) with all the female characters in the play.
Peter Ackroyd, in his Venice: Pure City nailed him:
He is fearful, a pacifist who nonetheless wishes to conquer the world by trade, jealous of everything, a fanatical patriot, desperate wooer and miser, high-principled but subtle, so fearful of being gulled that he runs headlong into situations that will guarantee his gulling. He represents Venice's uneasy conscience.
The character was so accurate that Venetians in general became known as 'Pantaloons'.
In the Commedia, Pantalone was usually plays the role of father to one of the love interests, whose youth symbolizes the spring of the year. If he has a lovelorn son, Pantalone probably wants to marry the girl himself. If Pantalone has a daughter, he's too cheap to provide a dowry.
His name evolved into the English word pantomime, itself one of the last popular survivors of the old Commedia. But that's not all. Because of his skinny legs, or 'shrunk shank', Pantalone would wear trousers instead of knee breaches. These became known as pantaloons, and hence, 'pants'.