Pabellones de la Finca Güell
There be dragons here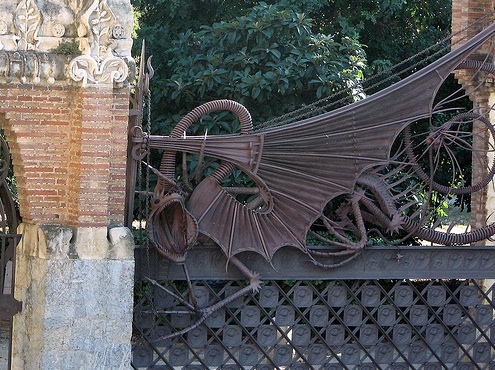 Just behind the park of the Palau de Pedralbes is a fence and gate guarded by one of Gaudí's first and most formidable ironworks, the Pedralbes Dragon (1884). For once this isn't St George's victim, but that of another Catalan hero — Barcelona's 'founder' Hercules — as described by the national poet Jacint Verdaguer in his epic L'Atlàntida, which guards the golden apples of the Hesperides, symbolised by the orange tree on the right-hand post. Spanning 18ft, the dragon writhes across the gate, whips its scaly tail, baring long, pointy teeth (originally it actually would snap its jaws when the gate was opened).
The gate also guarded Eusebi Güell's own orange grove and country house. Gaudí contributed his very first surviving buildings for his patron, the exotic, Hindu-inspired, corbel-roofed gatehouse and stable, which were also the first to be decorated with his signature trencadis and Greek cross.
Since 1978 they have been the seat of the Catedra Gaudí, a section of Barcelona's architecture school dedicated to the study of Gaudí's works. Architecturally, the Pabellones jar with the surrounding clumps of bright, boring new buildings of the Universitat Politècnica de Catalunya, which managed to commission as many FAD-winning architects as the equally dull Vila Olímpica.
Avinguda de Pedralbes 15
Hours Daily 10am-4pm
Adm Free
metro: Palau Reial
+34 933 177 652