Passeig de Colomb
The old seafront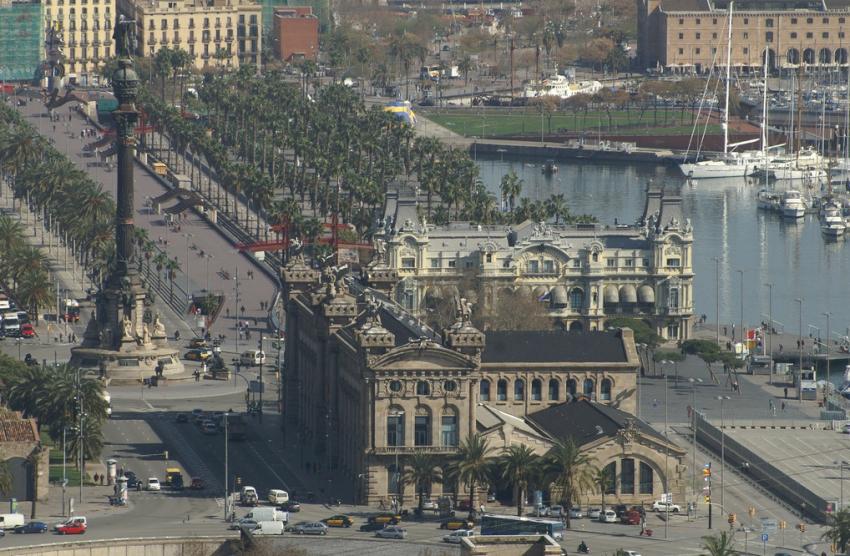 Behind the Moll de la Fusta (site of Roy Lictenstein's Barcelona Head) lies the old seafront, now relatively quiet, or it would be if you could wave a fairy wand and make the traffic disappear. The Passeig de Colom was widened when the sea ramparts were razed — in 1882, it became the first street in Barcelona to get electric lighting.
The landmark building towards the Columbus monument is the Duana Nova, or New Customs House, is a fondly foolish neo-Renaissance wedding cake by Enric Sagnier (1902), policed by gimlet-eyed, sharp-beaked griffons ready to pounce on smugglers and tear them to shreds.
The prettiest square here, the Plaça del Duc de Medinaceli, was another gift of the church-burners of 1835; the land reverted to the duke, who in 1849 hired Daniel Molina of Plaça Reial fame to create a residential square. The centrepiece is the first iron monument in Barcelona, a column and fountain of 1849. The hard part was deciding whose statue should go on top, looking out to sea: the final selection was a rather obscure Catalan vice-admiral, Galceran Marquet, who beat Genoa in a sea battle in 1331.