Castell de Montjuïc
The dark castle on the hill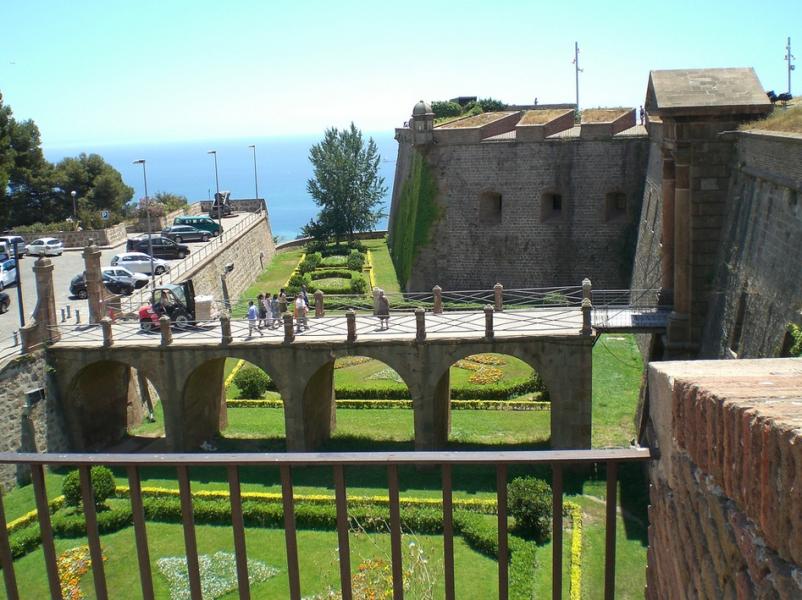 The views from the Castell de Montjuïc are spectacular, making it a favourite spot for an excursion on the cable car as well as a cool place to escape to during on a hot night in July, when its moat turns into a giant outdoor film festival (see below). But historically this castle has hardly been one of the city's favourite spots, more a symbol of oppression; not long ago they were still selling Francoist souvenirs in the gift shop.
In 2009, after the central government graciously ceded ownership of the castle to Barcelona, the city staged an 'invasion' by 40,000 citizens, followed by a joyous festival of Catalan music, dance, castellers and protest songs from the 70's. Right now, the place is being restored as an 'interpretive centre'.
For centuries, a tower stood here as a beacon on Montjuïc's 558-ft seaward brow, guiding Barcelona's fishing fleet home. In 1640, at the approach of the Castilian army of Philip IV during the Reapers' War, this tower was speedily converted into a fort. It didn't do much good; Barcelona was starved into submission.
Kings named Philip were rarely kind to Barcelona. After the city fell after a siege by Philip V's Castilian army in 1714, the old castle was destroyed and in 1759 replaced by the current model—a counterpart to the Ciutadella that allowed Madrid to keep an eye on both ends of Barcelona. It also proved handy for teaching the city a lesson now and then: in 1842, when General Espartero, facing unrest over the repeal of rent control legislation, lobbed over 1,000 shells down onto the city, destroying 400 buildings.
In 1896, after the infamous Corpus Christi bombing, all of the city's Anarchists (and anyone who looked vaguely like one), were herded up here to be tortured so badly that several died; five were executed on trumped-up charges and 61 sent to die in a penal colony. In 1909, the Anarchist founder of Barcelona's secular Modern Schools, Francesc Ferrer, was executed here after a sham trial following the Setmana Trágica – even though Ferrer wasn't even in Barcelona at the time – raising a storm of protest throughout Europe and giving the Anarchists a martyr.
A decade later in the infamous La Canadiense electrical strike (the worst and bloodiest in the city's history, putting the lights out in Barcelona, causing severe food shortages and shutting down 70 per cent of its industry), 3,000 workers were imprisoned in the castle. It continued to function as a military prison until 1960.
In the gardens, a path leads to Marès' statue of the Drummer Boy of El Bruc, overlooking the spot where Falangist prisoners and suspected fifth columnists were brutally rounded up and shot during the Civil War; later their colleagues would do exactly the same thing to the Republicans. The new Visitor Centre in four rooms of the castle has displays on its history; other rooms are used for temporary exhibitions, generally on military history.
Throughout most of July and into early August, the castle moat becomes a popular venue for concerts and films as part of the Sala Montjuïc Festival.
Carretera de Montjuïc 66
Hours Nov-Mar: daily 10am-6pm; Apr-Oct: daily 10am-8pm. Guided tours in English (that include the dungeons and other otherwise inaccessible places) daily at 11am and 3pm (€9, includes adm; €4 on free days).
Adm €5, €3 concessions. Free Sundays after 3pm, and every first Sunday of the month.
metro: Paral.lel then Montjuïc cable car. Or take bus 150 from Plaça d'Espanya
+34 932 564 440