Museu d'Art Contemporani (MACBA)
A Bright White Frigate of Art floating over El Raval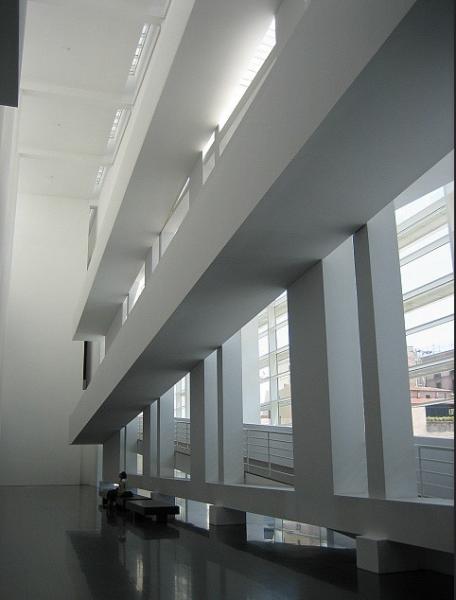 The glowing Museu d'Art Contemporani de Barcelona was designed by American architect Richard Meier and completed in 1995. The building almost overwhelms the collection: all the glassed-in space in front is devoted to ramps leading between the floors (you can't help but think how the skateboarders outside in the square would love to have a go at them), and the art is crushed into second place at the back.
It is a vibrant and varied gathering, nonetheless; the core includes such lights as Tàpies, Calder, Dubuffet, Barceló, Klee, Oldenburg, Rauschenberg and Christian Boltanski – don't miss the last-named's sinister, bank-vault-like Réserve des Suisses Morts (1991). Tàpies is represented by a number of pieces, among them Pintura Ocre (1959), a piece of ageing, crumbling wall, scraped away to show the canvas beneath. Joan Brossa has some delightful 'poem-objects' – one is a broom, leaning against a wall, a mundane domestic object until you see that the handle is made of a string of dominoes.
In Perejaume's Postaler (1984), the artist took a tall cylindrical frame fitted with angled slotted mirrors into different landscapes and photographed it with its shimmering reflections. There are several unsettling pieces, poised between horror and laughter, including an elongated ping-pong table with guns laid at each end instead of bats by Francesc Torres, entitled Taula d'Entrenament per a Comunistes Reconvertis (1991), or 'Training Table for Reconverted Communists'. Even more bizarre is Carlos Pazos' tableau Aquella Noche Volcí a Llovar con Bambi (1949), a nightmarish patchwork of found materials, featuring grotesque creatures galloping through a carpet forest, and a huge neon deer with a pierced heart flashing.
The top floor is devoted to temporary exhibitions, while near the entrance you'll find a very pleasant café-restaurant, and a well-stocked book and gift shop. Behind the museum, on C/ Ferlandina, there's a Keith Haring mural of 1989 called Together We Can Stop Aids.
Plaça dels Angels 1
Hours Mon, Wed, Thurs and Fri 11am-7.30pm, Sat 10am-9pm, Sun 10am-3pm
Adm €10, €8 students and over 65. Under 14 free
metro: Universitat
+34 93 481 33 68