Passeig de Gràcia
The High Street of Modernisme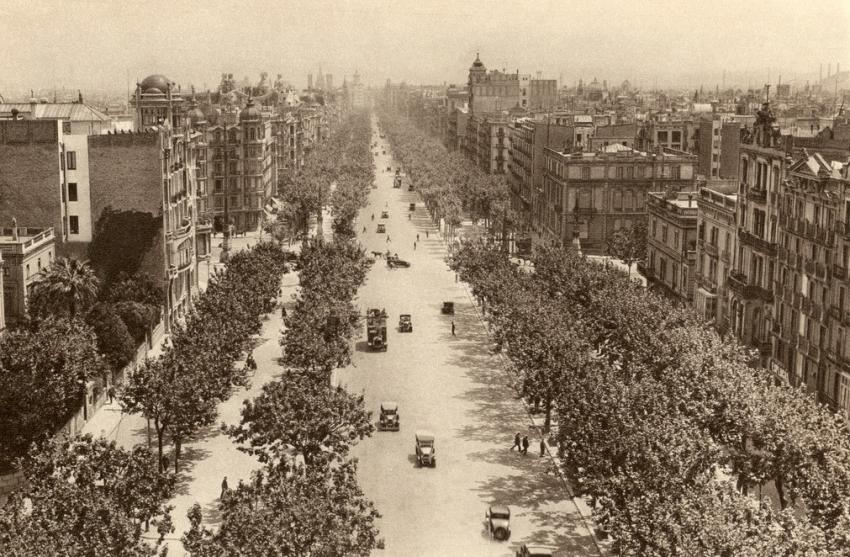 The 'Promenade to Gràcia', Barcelona's most elegant boulevard, heads up from Plaça de Catalunya and traditionally divides the Eixample into Left and Right. Elegant shops and banks lines its length; fantastical iron street lamps topped with bats arch over the street, announcing that this street is special; even the sidewalks are paved with swirling pale green and grey tiles based on a design by Gaudí.
The Passeig had a headstart over the other streets in the Eixample: in the 18th-century, when the rest of the area was covered in freshly dyed calico drying in the sun, the old road to the then-independent village of Gràcia was known as the 'Elysian fields', lined with dance halls, makeshift theatres, and beer gardens. Before the grand expansion scheme of the Eixample was put into place, it even had a roller coaster. The first trees were planted in 1827; first horse-drawn trams were added in 1872.
What the street is best known for, however, is its concentration of Modernista masterpieces. The stretch of the Passeig de Gràcia, between Carrer del Consell de Cent and Carrer d'Aragó, is nicknamed the 'Manzana de la Discòrdia' — the 'block of discord', using a pun on manzana, which means 'apple' and 'block' in Castilian (in Catalan, an apple is a poma so it doesn't work). Here three wildly contrasting Modernista beauties, built by the three greatest architects of the time, line up like goddesses to be judged: the Casa Lleó Morera, the Casa Amatller and the Casa Battló, while further up is perhaps the most extraordinary apartment building of all time, the incomparable La Pedrera.
At Passeig de Gràcia 2-4, the street narrows as it meets the massive Casa Fuster (1908–11), the last residential project of Domènech i Montaner, done with the assistance of his son Pere. It repeats the form of his previous buildings, but with a minimum of decoration (except under the tower and balconies) — one gets the feeling that his heart was more in his hospital project. And once you reach Casa Fuster, you're in Gràcia.