Tibidabo
On top of the Collserola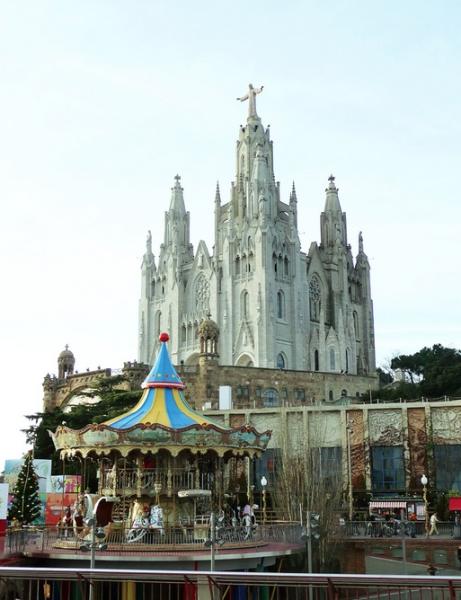 Get above it all by take a trip up to Barcelona's balcony Tibidabo and its fun fair, especially on a clear day. Do check the weather before setting out.
Its name, peculiar even to Catalan ears, comes from the Gospel of St Matthew, as the devil tempted Christ in the desert: 'Haec omnia tibi dabo si cadens adoraberis me' ('All this I will give to you if you will fall down and worship me'). The Catalans in their wisdom, relocated the famous encounter to Barcelona, believing it offered a far greater test of character than the rocky old Sinai.
On the very top is the ghastly Templo Expiatorio del Sagrado Corazón de Jesús del Tibidabo. (1886-1961) No, Gaudí's Sagrada Família is simply not church enough to expiate all of Barcelona's sins. It needs this one too. Ever since it opened in 1961, someone has been in the sanctuary praying 24/7.
There are several ways to get to the top, and if you take the tradition route on the FGC, Tramvia Blau and funicular, there are several buildings included on the Ruta de Modernisme worth looking at on the way up.
The FGC goes as far as the Estación de Avinguda del Tibidabo in Plaça de John F Kennedy, where the landmark is the brightly coloured, dainty mosaic filigree Modernista tower and cupola of La Rotonda (1918), designed by Adolf Ruiz i Casamitjana for a hotel which was later converted into a clinic; in dire need of restoration, the building is currently at the centre of preservation battle.
The next stage, on the Tramvia Blau, passes near the CosmoCaixa science museum and a Modernista landmark on the left at No.31, the large Casa Roviralta or 'White Friar' (1913), designed by Joan Rubió i Bellvé. This striking mudéjar fantasy has white stucco and elaborate, corbelled, angular brickwork; the lavish interior is the Asador de Aranda restaurant, where Madonna was once famously entertained by a male stripper. Just up at No.56 is another fine work by Rubió, the Casa Casacuberta (1907), now a school.
The two were key works in the area's development as an exclusive, 1,235-acre garden residential district created by Dr Salvador Andreu, who struck it rich with his patented cough lozenges (which are still sold today) and best-selling book, The Pharmacy at Home. Dr Andreu was interested in music (he was a patron and good friend of composer Enrique Granados) and art, counting painters Ramón Casas and Santiago Rusinyol in his close circle.
He also had a keen interest in urban planning, and purchased the land in 1899 for 500 pesetas, and made it a priority to install a tram (unlike Güell). Another of his projects was the Gran Hotel La Florida, now meticulously restored as a stylish hotel with some of the best views in town, and what was at the time Europe's second largest fun fair. His daughter Madronita Andreu would go on to become a pioneer cinematographer.