Estació de Sants
Barcelona's main station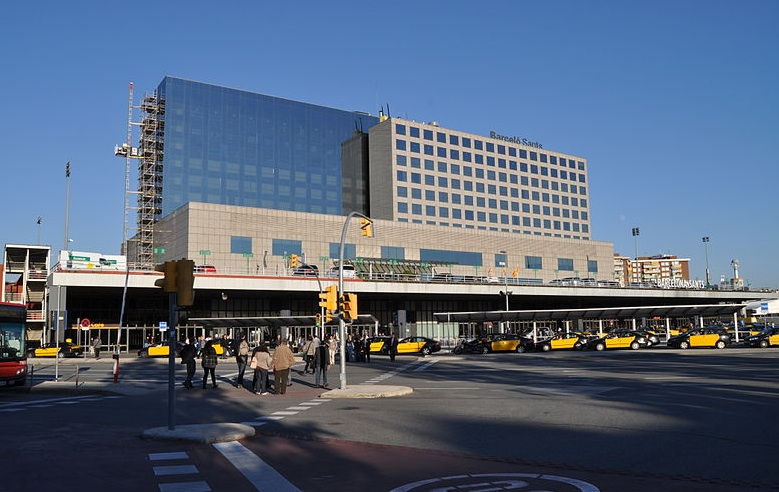 Sants, Barcelona's biggest train station, located just west of the city centre, is on high speed international lines to Paris, Montpellier, Milan and Zurich, plus the AVE high speed line to Madrid and Valencia, the Euromed high speed line to Valencia and Alicante and the ARCO high speed line to Malaga and Seville. Sants also serves as regular lines- long distance (larga distancia), medium distance (media distancia) and local trains, Rodalies (or Cercanías). There are also two metro lines.
A bit confusingly, each kind of train has its own information desk or office. Before getting in a queue, see if you have to take a number to get a turn at the desk.
For AVE/high speed trains, look for the Renfe Centre Servies glass office.
For Long Distance trains, look for Larga Distancia Salida Hoy (departures today) or Venta Anticipada Larga Distancia (advance purchase tickets) by the main rail information desks.
(To ride on either of the above, it's best to purchase tickets at least two weeks in advance, especially in summer. Book at the station, online, or by ringing +34 902 320 320.
For Medium Distance Trains, look for the Brief Questions desk (as long as you have a brief question) or the main rail information desks.
For the Rodalies, look for Atencio al Cliente (Customer Services).
Pay close attention to which escalator you take down for your train.
The station also has several car hire firms (although it's best to book in advance), tourist and TMB transport information offices. There are left luggage lockers (follow signs to the consigna and bring a lot of change), open daily from 5.30am-11pm. Free Wi-Fi is available in the McDonald's and Ars restaurants.
The lost property office in Sants is located in the Atencio al Cliente office, open Mon-Fri 9-1.30 and 4.30-7.
Plaça Països Catalans
metro: Estació-Sants
+34 90 243 23 43