Barceloneta Walk
The 18th century village that had a postmodern art attack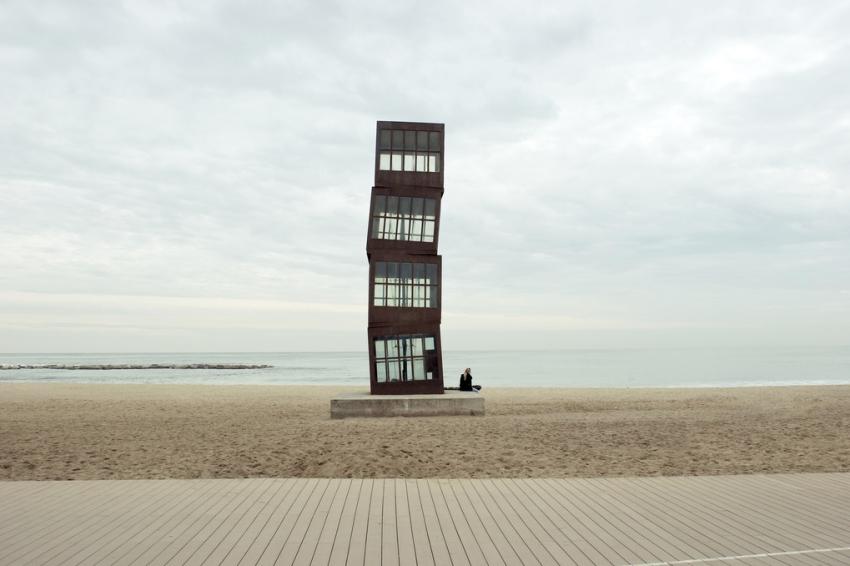 Barceloneta, Barcelona's planned 18th-century seaside quarter has always been a fun place to visit, with its seafood restaurants and beach and cable car to Montjuïc, but a sprinkling of 21st century fairy dust has made a wander-about better than ever.
Start in central Plaça de la Font, where the Mercat de Barceloneta (1884), designed by Antoni Rovira i Trias, has recently been thoroughly updated with a curving roof of solar panels (by Josep Miàs, based on an idea by the late Enric Miralles, who also designed the Mercat de Santa Caterina). The adjacent Plaça de la Barceloneta hosts the little 18th-century Baroque church of Sant Miquel; it once sheltered the remains of the Marquis de la Mina, the chief promoter of Prosper van Verboom's planned neighbourhood, but his mausoleum disappeared in the Civil War.
It's fun to seek out the public art: Mario Merz's Crescendo Appare (1992) along the Moll de la Barceloneta, where the numbers of the Fibonacci series are embedded under glass in the pavement (while you're counting away, look up at 43 Passeig Joan de Borbó to see the Casa de la Marina with its wooden blinds (1953) by Coderch and Valls, one of the first buds of modern, postwar Spanish architecture).
In Plaça de Mar, towards the cable car tower is the most mysterious of Barcelona's public sculptures, A Room Where it Always Rains (1992) by Juan Muñoz. Here, five melancholy bronze figures, human on top and beach ball below the belt, occupy a room made of bronze bamboo with a wet-looking marble floor. And the building way out by the sea that looks like a stylized euro symbol? That's Barcelona's own Ricardo Bofill's W Barcelona, winner of the 2010 Best Hotel Architecture Prize in Europe and the showcase of the new playground on reclaimed land at the mouth of the harbour.
The string of beaches which make up Platja Barceloneta gets packed in summer, lined with palms and decked with Rebecca Horn's Homenatge a la Barceloneta (1992), stacked metal boxes echoing the narrow old buildings of the neighbourhood. At the corner of Carrers Miquel Boera and Andrea Dòria, the crane-like scales of the Balança romana (1992) by Jannis Kounellis celebrates the port workers.
Nearby, in the Plaça de Gas, you can't miss the spectacular 20-story glass Torre de Gas Natural (2007) standing in the same place where the first gasworks were built in Spain; this was designed by the architects Enric Miralles (who died in 2000, just after the competition was won) and his partner Benedetta Tagliabue.