Avinguda del Paral.lel
Old Barcelona's Great White Way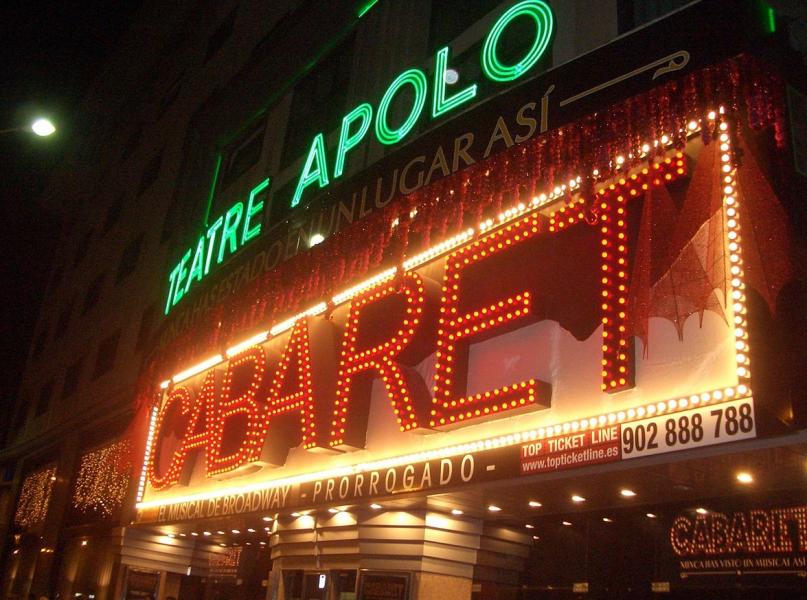 This grand, dowdy boulevard has had a number of official names in its career, but Paral.lel has stuck ever since 1794, when it was discovered to lie exactly on the 41° 44' parallel – fascinating to the Barcelonans, whose city otherwise refuses to square with any compass. (why the dot? as if the Catalans didn't have quirks enough, their language separates double l's when they are to be pronounced separately, and not as a 'y').
Although the intention in the 19th century was to make the Paral.lel posh and exclusive, it refused to cooperate, opting instead for a career in light entertainment. In 1895 it jumped into showbiz with the opening of the Spanish Circus Theatre. Music halls, flamenco tablaos and cinemas sprouted up, creating a gaudy neon-lit fantasy land; the satirical glittering revues that took place here were the direct ancestors of Barcelona's vibrant contemporary theatre scene.
The area around the Parel.lel metro was also the centre of Anarchism, where it wasn't unusual for the clubs and bars to have agitators passing the hat 'to buy dynamite'. In 1937, when the Anarchists were briefly in control of Barcelona, they closed down the music halls and brothels as unworthy of the revolution. When the Communists won the fight for the streets, they quickly reopened.
Under Franco, the bright lights went dim and the Paral.lel started to noticeably decay. Barcelona's own Moulin Rouge became 'El Molino'—they had to change the name because after the war the government wouldn't permit any reference to anything 'red'. Recent years have finally brought some signs of a revival. The street hosts Barcelona's Carnival parade, and famous chef Ferran Adrià has opened a cocktail bar 41º and tapas bar Tickets. The city has big plans for redevelopment and the creation of new public spaces.
The remnants of two historic music halls have survived: the recently re-opened El Molino, founded in 1909 as Barcelona's answer to the Moulin Rouge, and the Teatre Arnau, 60 Avinguda del Paral.lel, After years as a Chinese Christian church, the city has purchased the Arnau and it will eventually reopen, too.
The Arnau faces a small square dignified with a statue of Raquel Meller, a famous singer who got her start here. The nearby Café Español, now blandly remodelled, was a seething nest of conspiracy in the decades before the Civil War. Down a bit, at 113 C/ Nou de la Rambla, the old Sala Apolo** has made the transformation from music hall to trendy club, while Bagdad, at No.103, notorious for putting on the raunchiest live sex show in town, is now reduced to taking in package stag nights from Britain.
Down at the lower end of the Paral.lel, by the port, the site of an old power plant is now Barcelona's edgiest neighbourhood park, the Jardins de les Tres Xemeneis.
metro: Paral.lel, Poble Sec, Espanya