Sitges
Barcelona Beach Babylon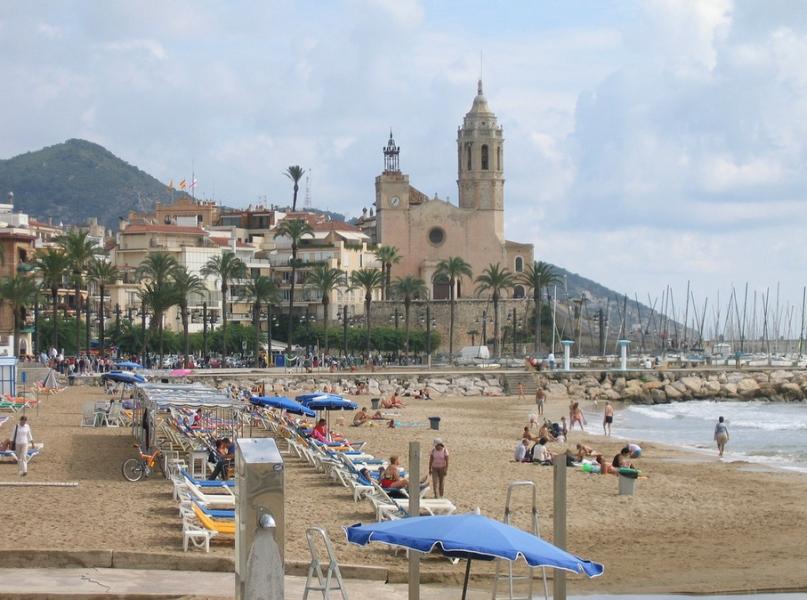 If you want to sneak away from Barcelona for a day at the beach, there are plenty of choices, but the best and most convenient of them is Sitges. This old fishing village became a resort for artists and the elite thanks to the painter, poet (and textile tycoon) Santiago Rusinyol, a large-than-life figure of a century ago. Sitges was an oasis in the gray Franco years; the fun-hating dictator never managed to suppress the town's wild carnival.
It's a big, busy place today. The historic centre is simply beautiful, the beaches are excellent—miles of them—and on a good summer day you would think all of Barcelona (and half of Europe) is here. Sitges has two rather incredible museums that rank among the top sights of Barcelona.
And if you're gay, you've heard of the place already. Right after the death of Franco, Sitges began to blossom into Europe's favourite gay resort. As the local guide puts it: 'If you've always wondered what the world would be like if we could all live side by side without sexual orientation being an issue, this is where to see how it's done!'
Old Sitges grew up between the beaches, on a rocky outcrop that is now crowned with the church of Sant Bartolomeu i Santa Tecla. Its few streets are whitewashed and lovely, dotted here and there with eccentric azulejo tiles bearing unexpected images or whimsical messages. Picturesque Carrer Fonollar, running along the coast, leads to the museums.
Cau Ferrat and the Museu Maricel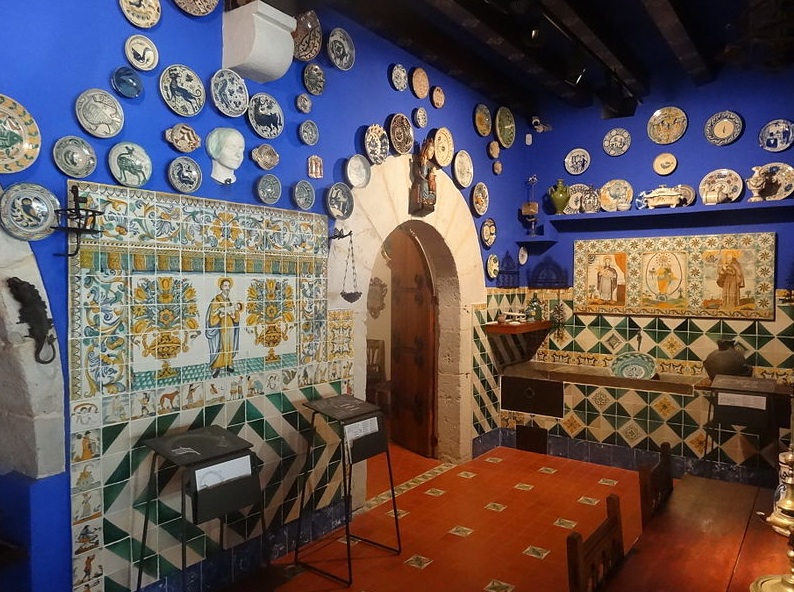 Cau Ferrat, (+34 93 894 03 64, open Tues-Sun 10am-5pm winter; til 7pm mid-season, til 8pm summer; adm €7, €10 combined with the Museu Maricel). It's madness, but first-rate Catalan madness. Santiago Rusinyol, who built this mansion for himself in the heart of the village, had a touch of Salvador Dalí in him—if not in his art, at least in his extravagant lifestyle and sense of design. The mock-medieval interior with electric-blue walls is spectacular, and they're covered with bric-a-brac and paintings, not only Rusinyol's but an early Picasso and two El Greco's. Most of the house is filled with Rusinyol's eccentric collections, everything from ancient glass to antique locks and door-knockers.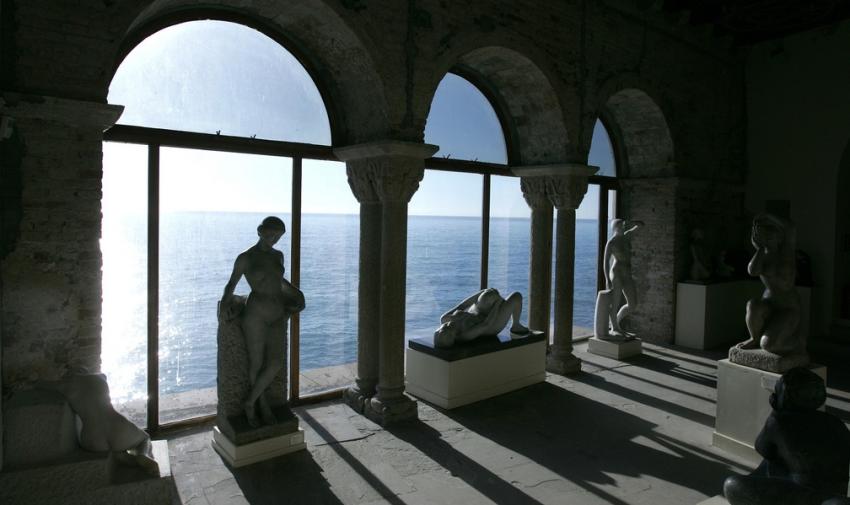 Just next door is the Museu Maricel; same phone and hours as Cau Ferrat). The building, with huge windows overlooking the sea, was contributed by an International Harvester heir from Chicago, Charles Deering. The 3,000 works of art were the collection of a local gynecologist named Jesús Pérez-Rosales (where'd he get the money?)
There's a lot of wonderful borderline kitsch here (and Sitges is just the place for it) along with a good helping of great art: an important collection of medieval Catalan painting and sculpture, and an incredible room frescoed in chiaroscuro by Josep Maria Sert, depicting the Miracle of the Marne in World War I, with ministering angels and all the Paris taxis in attendance.
Nightlife, golf, and general hedonism
The bar scene in summer is huge, and by no means all gay. There's a concentration of bars of all kinds in the centre along C/ Marqués de Montroig, and a little bit of everything spread around town: big discos, cocktail bars, cafés, music bars and lots of places where you probably wouldn't want to take your Aunt Sally.
There are beaches right in the centre, a mixed nudist beach just east of the centre, and many others stretching out a long way to the west. Playa del Muerto, the notorious gay nudist beach, is at the end, accessible by a dangerous walk along the tracks.
If you have a car, you can tour the nearby wine region of the Penedès, where cava is made, see Sakya Tashi Ling, a Tibetan Buddhist monastery that is open for visits, and hike or bike through the Parc Natural de Garraf, an inland preserve of unspoiled Mediterranean landscapes. And Sitges is your chance for a day-trip round of golf, at the Terramar Golf Club (on the western edge of town near the beaches, a nice course with sea views, but expensive.
You can consider Sitges almost as a part of Barcelona. R2 commuter trains from Sants begin about 6am and run until about 10.30pm. For most of the day they're only minutes apart, and the trip takes about a half-hour. It's easy to make connections from the metro or RENFE trains from other parts of Barcelona.
That's very fortunate, since you wouldn't want to drive there. Especially in summer, the traffic is unreasonable, and parking almost impossible. Rates in the few city-run lots are extortionate.
Tourist Office, +34 93 894 42 51