Jardins de les Tres Xemeneis
Hipster-free zone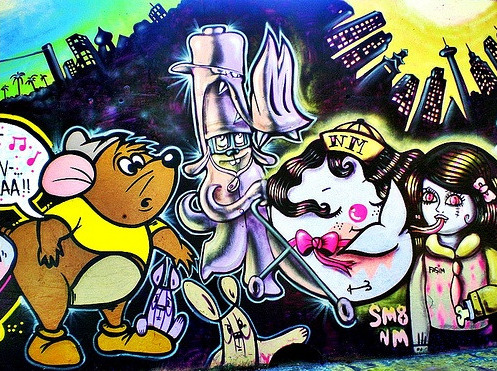 It's one of the most successful parks in the city—probably because they never let one of those overpriced knucklehead designers get hold of it. The 'Park of the Three Smokestacks', in fact, seems at first glance the polar opposite of everything that is modern, yuppified Barcelona. Once this was the site of an electric power plant, and they've kept the smokestacks and some giant, inscrutable chunks of machinery as post-industrial decoration.
This is a park for the neighbourhood kids, with spaces for rollerbladers, skateboarders, basketball and ping pong, and the kids have been allowed to paint many of the murals on the surrounding walls under the city's artistic supervision.
Every year the park hosts Urban Funke, a festival with a graffiti contest and 'street sports' that attracts competitors from around Europe.
The site holds a lot of historical memories. The power plant was the home of La Canadença, a Canadian-Belgian firm that also ran the city's streetcar lines. An epic strike here in 1919 was one of the landmarks of the Catalan trade union movement.
La Canadença met a bad end. In 1948, it was literally stolen by the Mallorcan pirate-businessman Juan March, a legendary character who financed the Nationalists in the Civil War, and then worked for British intelligence to keep Spain out of World War II. March used his political influence to rig legislation against the company, and then paid off the courts to hand it over to him. March reportedly once admitted he didn't need the money, but wanted to do it because no one had ever stolen an entire streetcar line before.
Av/Paral.lel at C/Palaudàries
metro: Paral.lel