Joan Maragall
The Poet of Modernisme (and his house)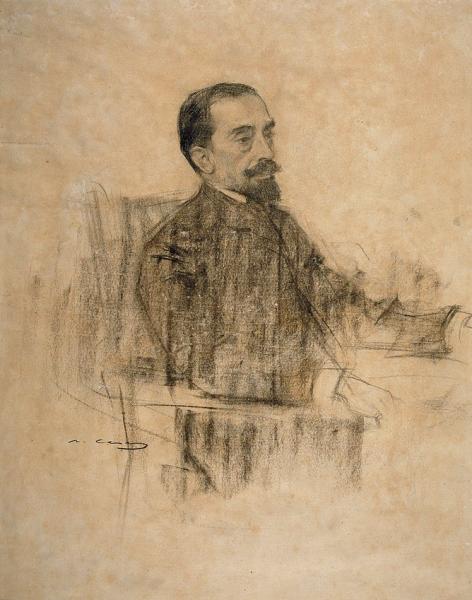 Tens aquest rambla que és una hermosura...
I allí, a quatre passes, febrosa de sobres, més ampla que l'Altra, La rambla dels pobres
tremola en la fosca ses llumns infernals
(You have one Rambla, a place of delight.../And there, four steps away, feverish with excess/broader than the other, the Rambla (the Barrí Xinès) of the poor/shudders in the gloom of its hellish lights.)Joan Maragall, Oda Nova a Barcelona
Born in Barcelona, the youngest child and only son of an upper middle class family of textile merchants, Joan Maragall i Gorina (1860-1911) was taken out of school at age 16 and put into the family business but had no heart for it, and instead spent every spare moment filling notebooks with verse. then went to law school but left before getting his degree, and married his sweetheart Clara Noble. Like his contemporary, Jacint Verdaguer, he entered his poetry in the Jocs Florals starting in 1881 and quickly became a Mestre en Gai Sabor.
Maragall's vision of poetry, however, couldn't have been more different than that of the intensely lyrical, epic myth-writing, Wagnerian Verdaguer; Maragall, a humanist who disdained rhetoric and formality to write, was more like Verdi, attuned to his time, aware that the old imperial Spain was dying and a new one had to arise to take its place. He wrote in progressive newspapers and magazines, and translated Goethe and Nietzsche and believed in what he called the teoria de la paraula viva, 'theory of the living word', full of spontaneity. His poetry inspired composers (some 100 of his poems were put to music).
Around 1900 Maragall went through something of a slump: the new reactionary fashion, noucentism was deeply critical of the modernistes in favour of a careful study of every word and line, and he stopped published– until 1909 and the events of the Setmana Tràgica moved him to find his voice again and write some of his finest work.
Maragall was a good friend of Gaudí, and early on believed with him that the Sagrada Família would be Barcelona's great symbol of rebirth. In his Oda Nova a Barcelona, composed in 1909, he writes
In the east, mystical example,
like a giant flower, a temple blossoms,
amazing to be born here
amid such a coarse and wicked people
who laugh at it, blaspheme, brawl, vent their scorn
against everything human and divine.
Yet amid misery, madness and smoke
the temple (so precious!) rises and flourishes
waiting for the faithful who must come.
The Maragalls had 13 children, and after his death, his widow Clara Noble and their descendants kept all his works, letters, translations, art collection, press clippings and library together in the house Maragall purchased in 1899 on Carrer d'Alfons XII 79 in Sarrià; in 1993 it became the Arxiu Joan Maragall, or archive, part of the Biblioteca de Catalunya. It also contains the library's Moderniste reference collection.
Several rooms have been preserved as they were in Maragall's day, and are typical of the taste of Barcelona's bourgeoisie at the time. Family members still gather there for reunions, including his grandson, Pasqual Maragall, former mayor of Barcelona and president of Catalonia (2003-2006).
Carrer d'Alfons XII 79
Hours Mon 10am-2pm, Wed 10am-2pm and 4-8pm
Adm Free
FGC Sarrià
+34 93 200 14 16