Around Sants
And the Parc de l'Espanya Industrial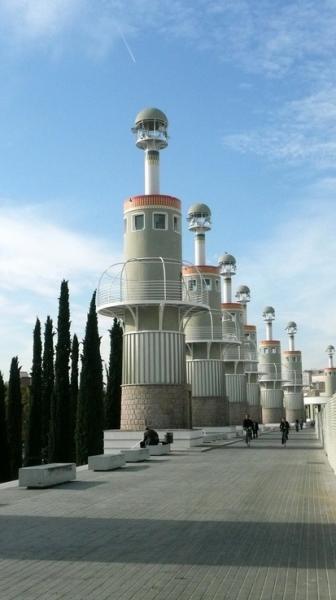 Sants, on the far left of the Eixample, grew up along the Carrer de la Creu Coberta, the old Roman road to the rest of Spain. Like Poble Nou, it was the setting for Barcelona's giant textile mills in the 19th century, including Güell's Vapor Vell with its tremendous tall brick chimney, at Carrer de Galileu 51.
The FAD-award-winning Plaça dels Països Catalans (1981–2) nearby was originally a traffic intersection, and the architects, Helio Piñón and Albert Viaplana, were given a difficult brief: they could not build or plant anything because of train tracks feeding the Estació de Sants directly below. Their response was to create a minimalist playground dotted with metal pole 'trees' and canopies to compose a poem that designers adored and the average Josep avoids like the plague; unfortunately, it became the template for a dozen squares around Barcelona that don't even have train tracks for an excuse.
On the southern side of the station is Parc de l'Espanya Industrial, named after the huge mill that once stood here. Designed in 1986 by Luis Peña Ganchegui, it is far more convivial, with a boating lake and a giant St George and the Dragon (1985), by Andres Nagel, the largest of all Barcelona's dragons. The park's landmark is a column of extra-galactic pinheads in dainty metal tutus, disguised as light fixtures. A number of statues from the 1929 International Exhibition were taken out of storage to decorate the rest of the park.