Piazza Maggiore
Bologna's Busy Vortex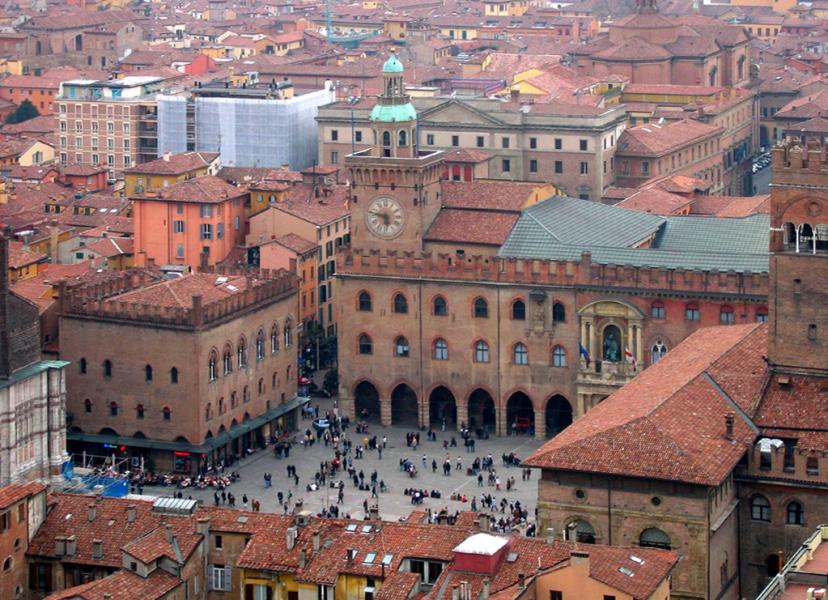 The centre stage of public life, where all Bologna seems to come in the evening, is Piazza Maggiore and its antechamber, Piazza Nettuno. Italy is famous for its central piazzas, usually combining a cathedral with the seat of civic government in a beautiful architectural ensemble. Almost every city north of Rome has a brilliant example—but not poor old Bologna. This is the homeliest square in Italy; it's like a cultured old woman in galoshes and a tatty brown coat from the charity shop, with hair that hasn't been brushed for centuries. But the Bolognese don't care. She's friendly and familiar and they love her to pieces.
Piazza Maggiore grew into its present shape in fits and starts, replacing narrow streets and tiny piazze that made up the medieval city's marketplace. The centrepiece is the old centre of power, the peculiar two-headed complex that consists of the Palazzo del Podestà, facing the Piazza, and the Palazzo Re Enzo, facing the main street, Via Francesco Rizzoli.
Across the Piazza from the Palazzo del Podestà is the mastodonic, preposterous, never-to-be-finished facade of San Petronio, Bologna's main church (though not its cathedral) and one of the biggest in Christendom. To its right is another medieval civic building, the Palazzo dei Notai.
On the western side, the Palazzo d'Accursio (also known as Palazzo Comunale) has served as the seat of the comune (municipal government) since the Middle Ages.
On the eastern side stands perhaps the only architecturally notable building here, the Palazzo dei Banchi, a work of the distinguished Renaissance architect Vignola. Walk through its archways and you'll be in the heart of culinary Bologna, the Quadrilatero, the delightful warren of little shops, stands and restaurants that crowd around the newly-reopened Mercato di Mezzo. Right next to the Palazzo dei Banchi is the Museo Civico Archaeologico past the side of San Petronio, and then the Archiginnasio, the former home of the University.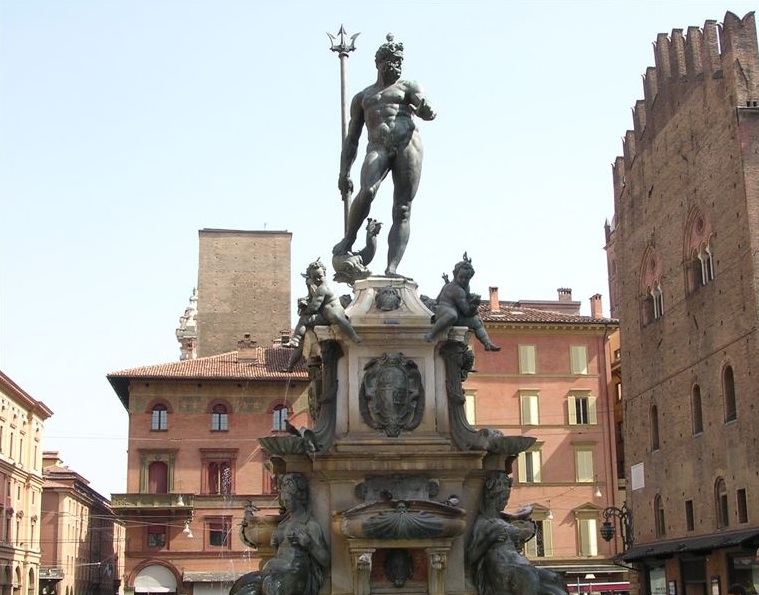 Piazza Nettuno, the part of the ensemble next to Palazzo Re Enzo, is graced with the virile and vaguely outrageous Fountain of Neptune, where the young folk of the city like to gather in the evening. Across from Re Enzo is Bologna's main public library, the Biblioteca Salaborsa—worth a look inside for the grand, sky-lit main hall, the Piazza Coperta ('covered piazza'), built of cast iron in the 1880's.