Santissimo Salvatore
Where English Students Came to Pray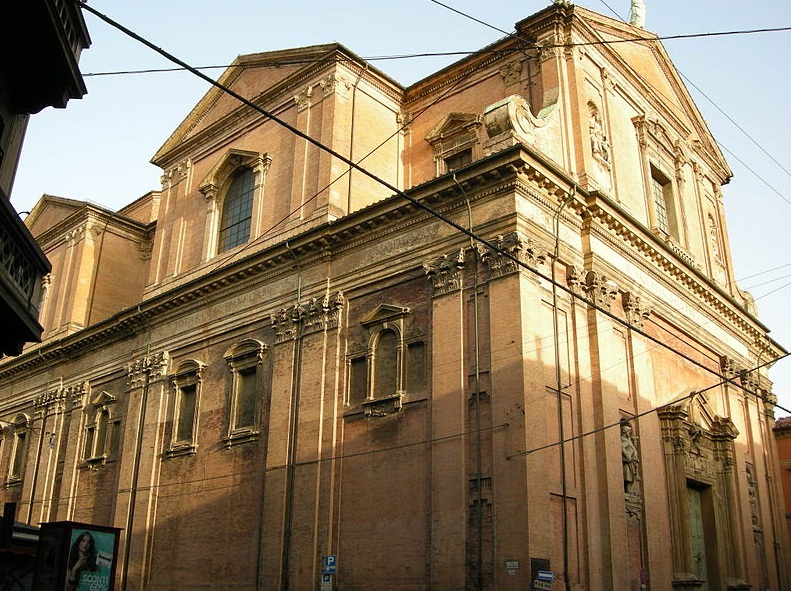 The original church of Santissimo Salvatore dates back to 1136, when it was built as the church of the Canons of Santa Maria del Reno. Completely rebuilt in 1623 by Giovanni Ambrogio Mazenta in a classical Baroque style, the façade's niches hold terracotta statues of the Evangelists by Giovanni Tedeschi. The vanilla white interior was inspired by the baths of ancient Rome, framed by tall Corinthian columns.
It preserves two fine works from the medieval church: a gold-ground, much venerated Madonna della Vittoria in a gem-studded frame painted by Simone dei Crocifissi, and a beautiful polyptych of the Coronation of the Virgin (1355) by Vitale da Bologna, with one of Vitale's typically endearing Virgins in the main panel.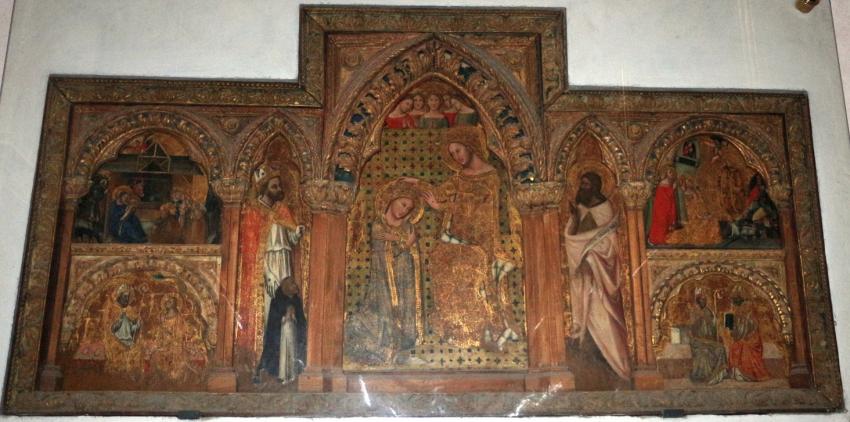 The polyptych was commissioned for the chapel of the English students. On the left side, under a nativity scene, a panel shows St Petronius having a chat with St Scholastica. On the right side, under the figure of St Catherine (patron saint of philosophy), is St Thomas à Becket, who studied law in Bologna.
The Virgin in the Temple nearby, by Girolamo di Treviso, also came from the long gone English Chapel.
The next chapel has a Resurrection by Mastelletta, with Christ wreathed in gold over a troubled blue grey world. Also seek out the unusual Story of the Crucifixion According to the Miracle of Beirut by Mannerist Jacopo Coppi (1523-91), a somewhat mysterious figure who worked with Vasari and earned the nickname 'Il Meglio' (The Best), the Holy Family by Alessandro Tiarini and a St John the Baptist Blessed by his Father by Il Garofalo. The painter Giovanni Francesco Barbieri, better known as Il Guercino is buried in the centre of the nave.
There's electricity in the air in this corner of Bologna. At No.7 Via IV Novembre, you'll notice the plaque for the birthplace of Guglielmo Marconi, while nearby at 2 Via Testoni, Luigi Galvani conducted his famous experiments on bioelectricity—making frogs' legs jump with a jolt of current.
Via Cesare Battisti, 18
Hours 9am-7.30pm
+39 051 6480611