Giorgio Morandi
The Intensity of a Still LIfe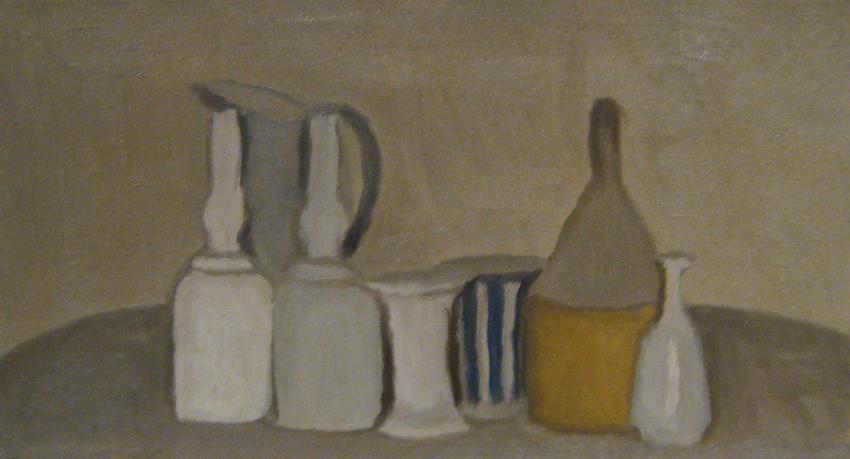 Giorgio Morandi (1890–1964) is generally considered the greatest painter of still lifes the 20th century. An artist of geometry and tonal intimatism, a few everyday objects formed his intensely contemplative and lyrical 'personal alphabet'. He belonged to no movement or school but his own, but was as timeless and contemplative as the painters who inspired him: Giotto, Masaccio, Piero della Francesca, Chardin, and probably most of all, Cézanne, who scrutinized the world just as closely.
Morandi's own life was a still life. For most of it he lived with his three sisters in the same house in his native Bologna (now open to visits by appointment). If they left, it was usually to spend the summer in the Apennine coolness of a modest cottage in Grizzana. Some have found echoes of Bologna itself in his art- in his austere colours, in his tower-like bottles.
One of Morandi's rare trips outside his home town took him to Florence in 1910, where he studied the great Tuscan masters first hand. He attended Bologna's Accademia di Belle Arti and in 1914 had his first exhibition with fellow students in Bologna's Hotel Baglioni, while starting to teach drawing in elementary school. After the joining the army in 1915, he suffered a serious breakdown and was discharged.
He briefly joined the Metaphysical art movement in 1918 along with Giorgio De Chirico and Carlo Carrà who were in nearby Ferrara at the time, but by 1922 had found the style he would paint in for the rest of his life. 'I am essentially a painter of the kind of still life composition that communicates a sense of tranquillity and privacy, moods which I have always valued above all else'.
In 1928 his work made its first appearance in the Venice Biennale. Between 1930-56 he taught etching at the Accademia; that provided a steady income, and began to attract international attention after he won first prize for painting at the Biennale in 1948. Today he is considered one of the fathers of Minimalism.
You cannot demonstrate your own greatness by remaining at one extreme, but by reaching out to both extremes at the same time, and filling the intermediate space. Giorgio Morandi
He is buried with his sisters in the family tomb at the Certosa.
Also see this video.