Archiginnasio
Former Home of the Unversity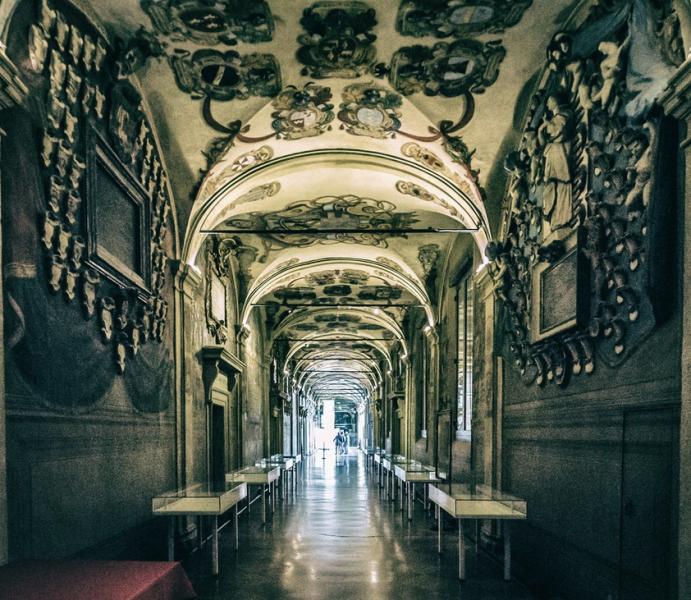 The long, porticoed façade just to the left of San Petronio's facade is the former home of the University, the Archiginnasio, its walls covered with the escutcheons and memorials of famous scholars. Bologna's University, though the oldest in Europe, was not provided with a central building until 1563; before then classes were held in public buildings or cloisters.
This is the building Bologna got for its money instead of the expansion of San Petronio; the Counter-Reformation popes, always worried about heresy and political opposition, apparently wanted to keep all the intellectuals here in one place where they could keep a close eye on them.
After the University expanded to its new quarters in 1803 this became the municipal library, the Biblioteca Comunale, which always has a selection of old books, manuscripts, prints and sketches on display. The reading room occupies one of the two former aule magne, or lecture halls; the other, the atmospheric Aula dello Stabat Mater, covered with frescoes and coats of arms of scholarly greats, was named after Rossini's composition, conducted here for the first time in 18 March 1842 by Donizetti. Here in 1921, Albert Einstein held a famous series of conferences on relativity in 1921.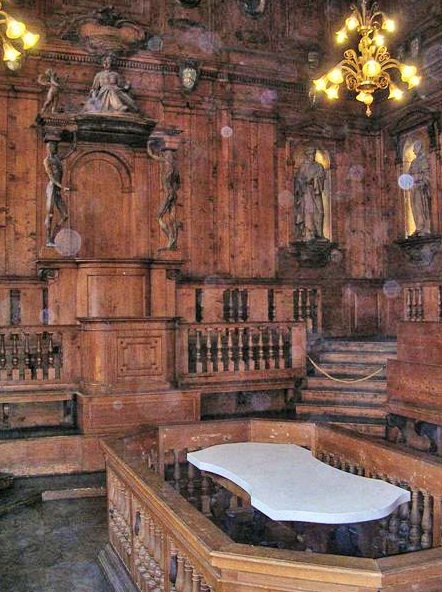 The visit includes ornate old anatomical theatre, shattered by a bomb in the Second World War and painstakingly rebuilt in 1950. It's a sumptuous, spruce-panelled chamber, a monument in the history of science not to be missed.
Statues of great surgeons, ancient and modern, peer down from elegant niches to concentrate the attention of the real surgeon at the marble table, where dissections were carried out by candlelight. Statues of Hippocrates and Galen, the Greek and Roman fathers of medicine, dominate the scheme. Among them you might notice Bologna's own Gaspare Tagliacozzi, holding a nose in his hand. In the 16th century, Tagliacozzi was one of the pioneers of plastic surgery. Rebuilding noses was a well-studied issue in a day when duelling with rapiers was popular, and Tagliacozzi found the first practical way to do it.
The monument in Piazza Galvani in front of the Archiginnasio commemorates Luigi Galvani, the 18th-century Bolognese discoverer of electrical impulses in the nerves who gave his life and name ('galvanize') to physics.
Via dell'Archiginnasio
Hours Mon-Fri 10am-6pm, Sat 10am-7pm, Sun 10am-2pm
Adm €3, under 18 free
+39 051 276811