City of Towers
The Medieval Manhattan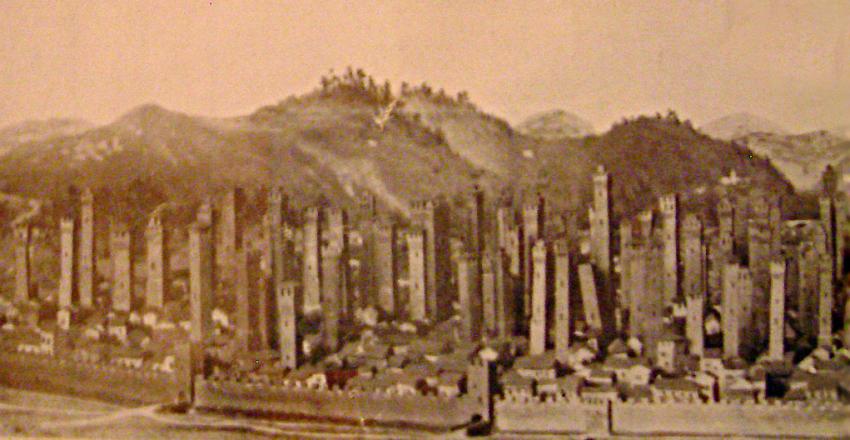 Imagine you're in the Middle Ages, on your way to Bologna over the Apennine foothills from Florence (that's walking, most likely, or horseback if you're a nobleman or a military captain, or on a mule if you're a posh cleric). If it's a clear day, you will see the city ten miles before you reach it, and it's an astounding sight: a dense forest of slender towers glittering on the plain, the skyline of a proper modern city.
It's hard to imagine, but most north Italian cities were like this. Before the 20th-century Americans, no people in history had such an insatiable lust for verticality as the medieval Italians. Between church campaniles, public buildings and private fortifications, towers of over 200 feet (and up to 500) were extremely common. The 'Two Towers' that serve as the mighty landmarks of Bologna's city centre today are among the few survivors. The remains or sites of 194 others have been located so far, and no doubt quite a few have disappeared altogether.
Nearly all of these were simple, square defense towers. Along with Florence, Bologna probably had the most of these, monuments of the time when the city was dominated by contending noble families. As these, after the year 1000, found their economic interests ever more tied up with the booming cities, they started building fortified residences in town to complement their castles in the country. In an age when family vendettas were the main subject of the chronicles, they were a good thing to have.
Over time, these town forts grew into family compounds that might cover several blocks, with gated entrances, palazzi for the various branches of the family built around a courtyard, warehouses, and a tower for a centrepiece. The towers served as status symbols as much as for defense, and families would strive to see who could build the tallest.
The age of the towers came to a close with the advent of strong free cities, the comuni. Endless street battles, and occasional all-out sieges had become intolerable nuisances, and just as the new governments were figuratively cutting the nobles down to size, they often ordered their towers lopped down. Quite a few fell down by themselves over the centuries, from earthquakes and lightning. In Bologna some 20 complete examples remain today, and while you're tramping the back streets, keep an eye out for the stumps of the rest, hiding among the old houses. Often the giveaway is an impressive, incongruous arched entrance, or a foundation of great stones that hasn't been stuccoed over. Once you start looking you'll see them everywhere.
Every Friday (at 11am) and Saturday (3pm) Bologna Welcome, the city's tourist office, offers two hour guided tours of the most prominent towers, €15 (€12 ages 5-12). Book at +39 051 6583111 or email them at booking@bolognawelcome.it.