Annibale Carracci
Bologna's Baroque All Star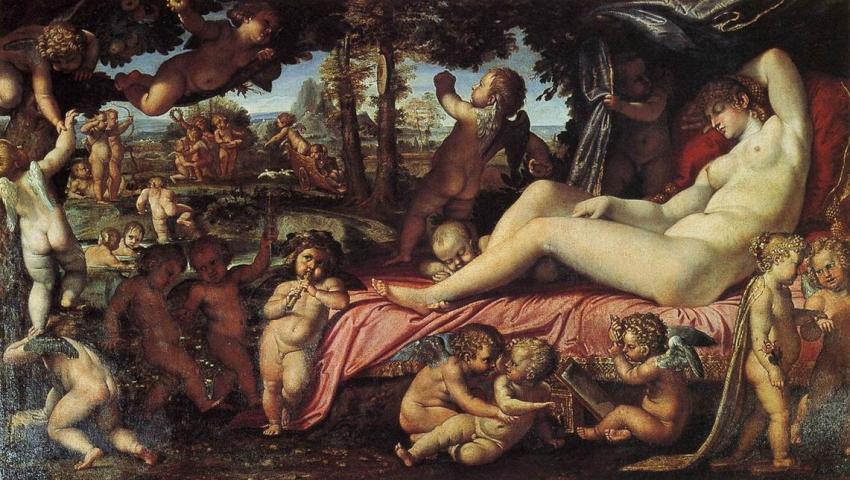 [His] frescoes convey the impression of a tremendous joie de vivre, a new blossoming of vitality and of an energy long repressed. Rudolph Wittkower
The youngest of the Carracci clan, Annibale (1560–1609) was the most talented, a shy man who spoke with a stutter and never cared about his personal appearance (he was famously shabby). As a boy his natural talent soon attracted the attention of his artist cousin Ludovico, who convinced his father, a poor tailor that like his brother Agostino he was meant for bigger things. He was first apprenticed to a goldsmith, and studied with Ludovico and Bartolomeo Passarotti.
Most of all Annibale loved to draw. He took his pencil wherever he went, leaving behind hundreds of sketches drawn with free, fluid line, depicting everything from genre scenes of the simplest gestures of everyday life to hundreds of studies for his frescoes. Inspired by the Venetians, he adopted a new broken style of brushwork to capture movement and light. His ideal, sensitive landscapes would inspire his star pupil Domenichino, Poussin and other 17th-century masters.
The Bologna palazzi Fava and Magnani that Annibale painted alongside his cousin and brother were warm ups for his masterpiece, the Loves of the Gods and Hercules in the Palazzo Farnese (1595-1606)for Cardinal Odoardo Farnese. In Rome, Annibale was able to study antiquities and the masterpieces of his two great predecessors, Michelangelo's Sistine chapel and Raphael's Villa Farnesina and Vatican loggie. At the time, heroic wall and ceiling frescoes were still judged the true test of a master (Caravaggio flatly refused to paint them), and Annibale proved his mettle, using a number of illusionistic devices in the framing of the scenes: 'statues' (similar to Palazzo Magnani) and nude figures, illuminated by light from realistic looking windows.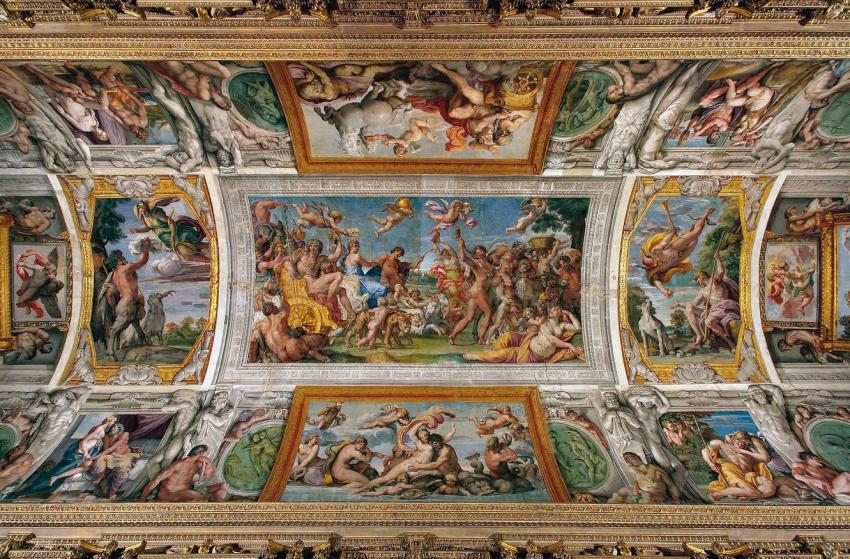 In 1600, when revealed to the public, the Farnese was proclaimed the equal of any art that had gone before. Yet the Cardinal, who constantly mocked his shabby appearance and stutter and only paid him 500 scudi for his efforts.
Annibale painted a number of landscapes and religious scenes while in Rome, but after 1605 fell into a deep depression; some say it was caused by the Cardinal Odoardo's treatment, others suggest he had 'a disease of love', perhaps syphilis. When he died in 1609, he was buried, according to his wish, next to his idol Raphael in the Pantheon. The painting on his casket was his Christ crowned with the Crown of Thorns, today in Bologna's Pinacoteca.