Tortellini
Not to be Messed With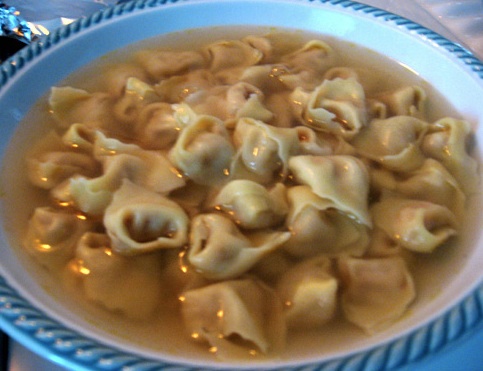 If the first father of the human race was lost for an apple, what would he not have done for a plate of tortellini? an old saying in Bologna
The Bolognese are not an excitable race, but they go as gaga as Neapolitans on the subject of tortellini. For many, even the University pales before plump rings of pasta as Bologna's culminating cultural achievement. Men have fought for the honour of tortellini; in the 1920s, when a visiting Venetian dared to insult them, a postman beat him up so badly that one ended up in the hospital and the other in jail (sentenced to six months without tortellini).
They may even be as old as the University; the first reference to turtlein, as they are known in Bolognese dialect, goes back to the 12th century when they were given to priests at Christmastide, and to this day no Christmas table in Emilia is complete without a bowl of tortellini in capon broth. A recipe discovered in a 14th-century manuscript prescribes a stuffing similar to the one used today, although with the addition of medicinal herbs.
It has also been revealed that a certain Adelaide, wife of a Bolognese notary, produced in the year 1821 the first canonical tortellini filled with minced ham, veal, mortadella, Parmesan cheese and nutmeg. In 1963, the Accademia del Tortellino was founded to pursue perfection in Adelaide's recipe. Although tortellini machines have simplified the lives of countless Bolognese chefs, connoisseurs disdain them; a handmade tortellino contains 20 to 30 per cent more filling, which is why they cost more.
In Bologna, tortellini have passed beyond the realm of culinary science into myth. Their shape in particular makes the Bolognese go all dewy-eyed, for they are supposedly modelled on a woman's navel, a navel so beautiful that it could only belong to Venus herself. In the 17th century, a Tuscan poet named Ceri wrote a satirical poem telling how the goddess of love stopped at an inn, disguised as a mortal; the cook there had a glimpse of her naked, and was moved to model his pasta on the shape of her navel. In 1925 a play called The Man who Invented Tortellini in Bolognese dialect follows the same theme, only the navel in this case belonged to the wife of the cook's employer. The cook had been found in the wife's bedroom, and he invented tortellini as a love letter.
The official recipe for tortellini, along with Bologna's other most cherished treasures (such as the measure for the canonical width of tagliatelle) is kept closely guarded by the city's Chamber of Commerce in the Palazzo della Mercanzia.