Culinary Bologna and Modena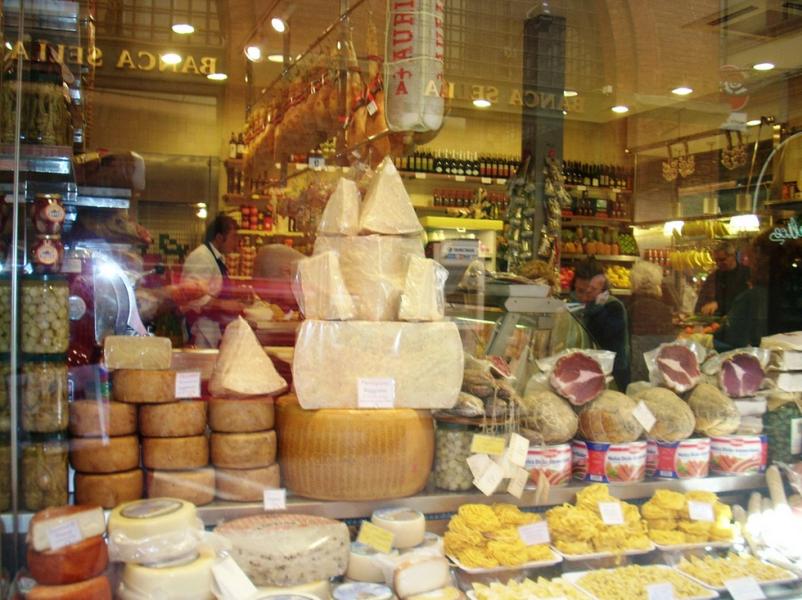 A panzu pina u s'ragiona mej ('You think best with a full belly) An old Bolognese saying
Many Italians, however, say you eat better here than anywhere else; the locals certainly believe it and show it with their reputation as the nation's greatest trenchermen and biggest drinkers. In other words, if you love to eat, you've come to the right place. The food shops lining the narrow streets of the Quadrilatero and Mercato di Mezzo are works of art.
Salumi
Salumi means cured pork products – cold cuts, if you will – and Emilia-Romagna is the cold-cut capital of Italy, where the most typical antipasto is a selection of salumi. This usually includes thin slices of the world-famous Parma ham (prosciutto di Parma), and, if you're lucky, culatello di Zibello. Even more revered and expensive than the famous ham of Parma, this is pork loin cured like prosciutto, prepared only in the humid lowlands of the Po Valley. Connoisseurs say the real thing, properly matured, is hard to find but worth looking out for. But that's only the tip of the salumi iceberg. Bologna has been making mortadella since the Middle Ages (the 'baloney' of American kid lunches is a dumbed-down imitation), and lardo stagionato, which sounds like 'seasoned lard' but isn't. Try it with a warm crescentina, similar to focaccia.
Pasta, pasta, pasta
Many of Italy's favourite forms of pasta originated here, and still taste better here than anywhere else. Several of the forms of pasta for which the region is renowned come from the word torta, or twist, which describes how they're made: the pasta is rolled and cut, the filling is spooned on, and sealed in a ring with a twist. Tortellini, or tortelli, the classic, are part of the region's mythology. In Bologna they are filled with pork, ham, mortadella and Parmesan. Bigger ones are tortelloni.
Another regional classic, tagliatelle, should be ideally served with a ragù – the original of the 'spag bol', a dish as bastardized in the UK as mortadella has been baloneyed in America. The original ragù is a smooth sauce of very finely minced pork and veal, prosciutto, onions, carrots, celery, butter and tomato; in general when a dish is labelled alla Bolognese it means with ragù (one exception is maccheroni alla bolognese: macaroni baked with truffles and chicken livers and doused in fresh cream).
The third great pasta dish claimed by Bologna is lasagne, although even the Bolognese acknowledge that the dish goes back to the Romans who called it laganum. In most places you'll find it as lasagne al forno, layered with ragù and cheese and topped with bechamel, which is recorded as being served in Cesena in the 14th century – long before it was supposedly invented by Louis XIV's maître d'hôtel, the Marquis de Béchameil. Bologna claims to be the mother of green lasagne, made with spinach; a proper lasagne alla bolognese has prosciutto, chicken livers, bacon and bechamel. In autumn look for lasagne with truffles or wild mushrooms.
Other popular forms are anolini, 'rings' filled with stewed beef, Parmesan, eggs, breadcrumbs and nutmeg, come in a chicken and beef broth, and panzerotti which resemble tiny stuffed pancakes. There are garganelli (rolled and cut with a device resembling a loom card), strozzapreti ('priest-chokers') and passatelli in brodo, which features little dumplings made of spinach or beef marrow, breadcrumbs, eggs and Parmesan.
As a reaction to all the pasta discipline, a favourite form is maltagliati ('badly cut'). When cooked with beans, it is known as a 'chin sprinkler'.
Secondi
Meat courses in Emilia-Romagna tend to be on the hearty side as well. One of the heraldic dishes of the region is stracotto, topside of beef, ideally cooked for hours (or days, by some extremists) in wine with herbs and vegetables until it becomes incredibly tender; sometimes it has sausage and will come garnished with mushrooms or even truffles.
Another classic is bollito misto, a variety of boiled meats served with a range of sauces, which generally comes on a cart (carrello dei bolliti) in restaurants, allowing diners to pick and choose. Coppa arrosto, a speciality of Piacenza, is pork cooked in butter, oil, garlic and rosemary, then doused with wine and roasted in the oven. Stew or roasted poultry dishes are popular – roast duck and goose, or anitra or faraona alla creta (duck or guinea fowl cooked in a terracotta dish). In Bologna they make a tasty concoction called canestrelli di pollo – chicken fillets stuffed with smoked ham and onions on a bed of puréed spinach. Tripe (buzeca) is popular, often cooked alla parmigiana, and various veal dishes, among them cima ripiena or picaja (stuffed breast of veal).