Canals
Bologna's Secret Venetian Side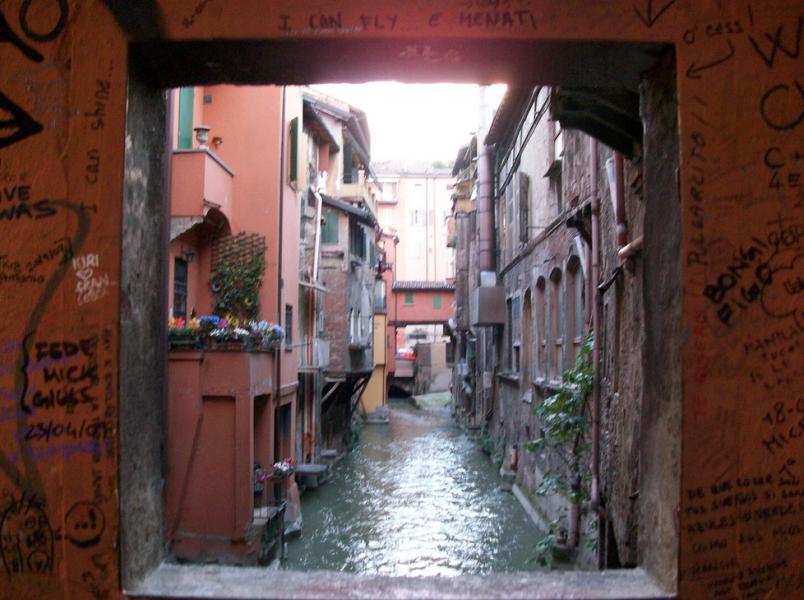 You wouldn't know it, but Bologna is criss-crossed by 60km of canals, dating from the 12th to the 16th century. Water from the Reno and Savena rivers was channelled through four main canals to power the flour mills and the massive wheels used to spin cloth, especially for the then important silk industry. The extra humidity provided by the canals was ideal for raising silkworms. The canals were useful for flood control; the water was used for watering animals and laundry (preferably as far upstream as possible).
The network was linked to the 36km Navile Canal that connected Bologna to Ferrara and Venice. The main port, where 50 barges once transported passengers and tons of goods (they could make it to Venice in 40 hours) was closed in 1935; today the only surviving building is the old salt depot, the Salara. Nearby Via Riva Reno 72 is the former Liberty Style Manifattura Tabacchi, or Tobacco Factory, that once used the Reno Canal to power the tobacco cutting mills; today the building houses the headquarters of the Cineteca.
In the boom years of the 1950s and 60s, the canals were paved over to become car parks and streets such as Via Riva Reno. Even so, here and there you can catch glimpses of the water: at the Grada, where the Reno Canal entered Bologna (Viale Giovanni Vicini 19), at the former tannery, the Pellacaneria della Grada, now the headquarters of the Consortium of the Reno and Savena Canals (Via della Grada 10); from the bridge in Via Malcontenta; and at Via Capo di Lucca 10.
The most Venetian view, however, is through the little window, or Finestrella, cut into the wall at Via Piella 16 (see map). You may have to open the shutter for a peek.