Piazza Grande (Modena)
The Heart of Town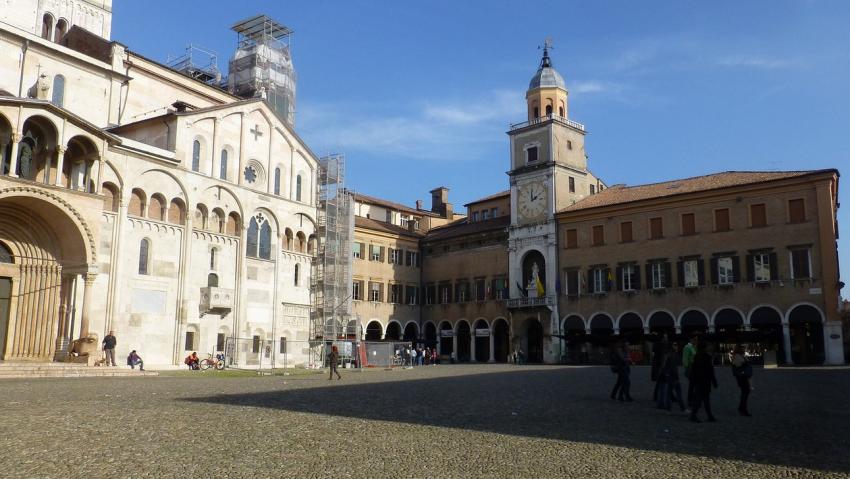 Piazza Grande, a spacious and lovely square, is the centre of everything in Modena, the site of all celebrations and demonstrations, of Carnival and the two winter festivals (17. and 31. January). For centuries it was also the home of the weekly Monday morning market, though that has now been moved to the charming Mercato Albinelli, with the outdoor stands and the clothes and antiques markets in the Parco Novi Sad a few streets to the north.
Architecturally, it seems at first glance an odd arrangement, with the Duomo turning its side to the Piazza while the facade and campanile, La Ghirlandina, are tucked into smaller piazzas of their own. (for the medieval design aesthetic behind the plan, see here.)
Piazza Grande is also home to the city hall, the Palazzo Comunale. Outside the Palazzo, the enormous slab of red Verona marble in the angle of the facade is the Preda Ringadora, a speakers' platform in use since the 1200's (arringadore means an orator; that's where we get our word 'harangue').
Another of Modena's civic icons stands on a pedestal on the right-hand corner of the building, where the Piazza meets Via Castellaro: La Bonissima, a marble lady documented to have occupied this spot since at least 1268. According to one story she was a noblewoman famous for her charity in a time of famine. Another one says she was the symbol of the Buona Stima, the municipal office that watched over dealings in the markets and among the moneylenders to make sure everything stayed on the level.