Mercato Albinelli (Modena)
Italy's Loveliest Market House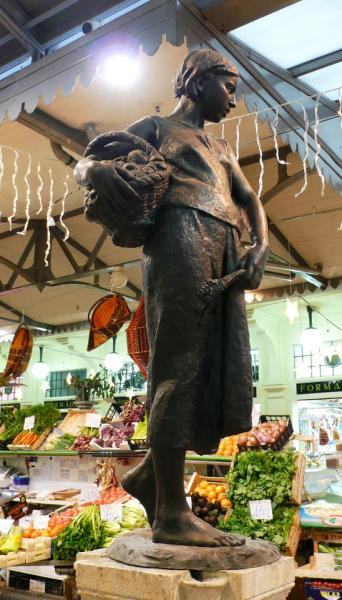 Modena's marketplace was once Piazza Grande. Around the beginning of the 20th century the city (under a mayor named Albinelli) decided to move the vendors indoors, to ease congestion in the Piazza and to better keep an eye on the quality of what the stallholders were selling.
Plans were made, and never followed up, but fortunately when they finally did build the market, in 1929, they used the original design, in the gracious, restrained version of Art Nouveau the Italians call 'Liberty style' after the London department store.
A Londoner perhaps would not be reminded of Liberty's, but a miniature glass-roofed Covent Garden. It's a delight, a bright and airy place that makes the perfect produce and seafood—for this is a true big-league temple of food— look even fresher. The presiding angel of the market is the Girl with a Fruit Basket, a much-loved sculpture by Giuseppe Graziosi atop the market's fountain.
Needless to say, you can get everything you need here for a memorable picnic.
Via Albinelli
Hours daily exc Sun 6.30-2.30pm