Palazzo Ducale (Modena)
Home of the Este Dukes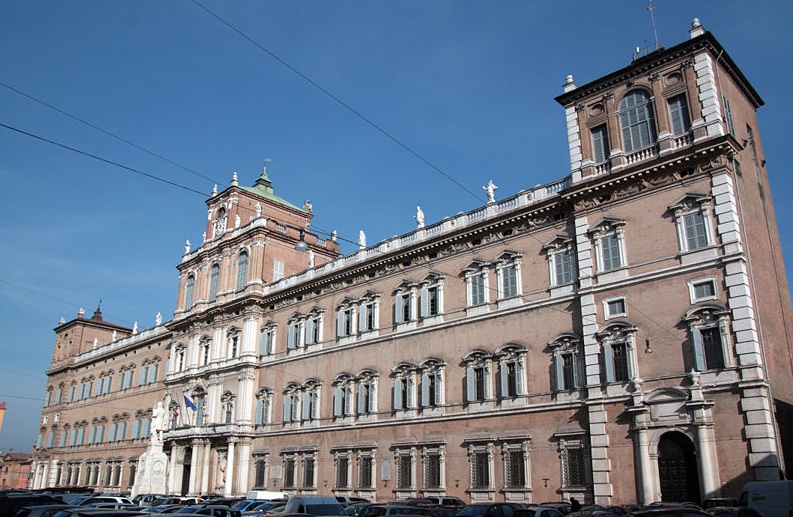 The huge Palazzo Ducale still dominates the historic centre of Modena, just as the Este who built it intended. Today though, the building houses the Italian National Military Academy, with its cape-wearing cadets that help give this city its picturesque character. After the Este were forced out of Ferrara, they took up residence in the original castle on this site, built by Obizzo II in 1288. Perhaps it was a little too medieval and drafty, or else it reminded Duke Francesco I too much of his lost home in Ferrara (which it resembled, in a smaller version); whatever, the castle was gone and work on a new up-to-date palace underway by 1635.
Despite the tiny confines of their state, the Este and their architect Bartolomeo Avanzini—with perhaps a little help from consulting architect Gianlorenzo Bernini—made a home that few princes of Europe could match. The façade, with its elegant window cornices and corner towers flanking an impressive entrance, makes a perfect picture of the 17th-century ideals of aristocratic gravity and refinement. Look closely, though, and you can see how hard-pressed the Este were to keep up their pretensions in their little capital on very limited resources: some of the window cornices and trim are just painted on, and half of the balustrade on the cornice is painted cement, not marble. The stone statues on the roofline were only added in the 1920s – in the originals the Este had to settle for wood.
The army takes good care of its landmark schoolhouse, which now includes a Museo Storico dell'Accademia Militare, with military memorabilia. If you're around for the weekend tours they'll show you some of the restored rooms, including the Salone d'Onore, with frescoes by Marcantonio Francheschini (1696) and the gorgeous golden Salottino d'Oro, done in the 18th century in the style of Versailles. They might also take you downstairs to see the huge underground reservoir, the Casa delle Acque, that the dukes built to hold the water flowing from Modena's medieval canals.
And finally, to close the book on the Dukes of Modena, notice the statue the Modenese erected right in front of the palace in 1879, after Italian unification. The romantically heroic figure on the pedestal is Ciro Menotti, a local patriot who organized a doomed rebellion against Austrian rule in 1831.
Piazza Roma 15
Hours The palace is open for guided tours on most Saturdays and Sundays, with advance booking. For info and booking, ring Modenatur +39 059 220022 or the Tourist Office +39 059 2032660
Adm €8