Museo Ferrari Maranello
Ferrari City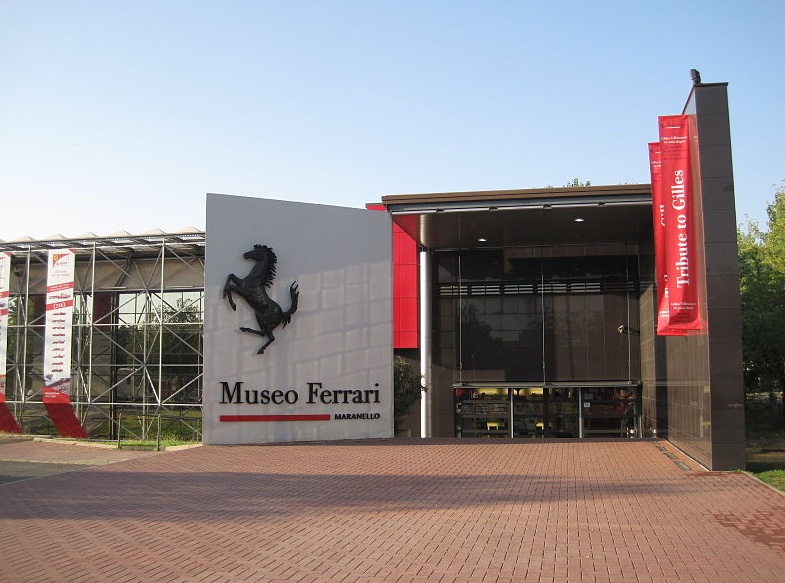 Live the DreamFerrari slogan
Ferrari has so much to show its legions of fans that it has not one, but two museums to keep them happy. One is in Modena, the Museo Enzo Ferrari. This older one in Maranello, 20km from Modena, was set up at the factory and testing track: there are historic cars, Formula 1 trophies and exhibits and films on the car's history, which boasts no fewer than 5,000 race victories around the world since 1940. There's a 'pit stop' and tyre change to recreate just what goes on there during a race and Formula 1 Simulators for young and old (although both of these are accessible only for group visits). Museum ticket-holders can also take a shuttle over to tour of the Ferrari factory and the Fiorano Test Track.
Enzo Ferrari, who got his start building tractors on his father's farm outside Modena, moved out to this village during war production in 1943, and promptly got bombed flat by the Allies. Since the rebuilding, Maranello has been Ferrari City, the place where people throughout the town hear the buzz of the cars on the testing track and, as the town's tourist bumph puts it, 'listen for a false sound in the engine, as if it were a wrong note at the opera'. In fact, one division in the factory is dedicated to perfecting the precise sound of the engine. Each model has its very own tune.
It's a strange little world: high-tech, but at the same time an anachronistic stronghold of Renaissance-style Italian luxury craftsmanship. Maranello also has an Enzo Ferrari Park, and a statue of the founder, 20ft tall, unveiled for the centenary of his birth in 1998.
Via Dino Ferrari 43, Maranello. A shuttle bus links the Ferrari Museum with the Enzo Ferrari museum in Modena and Modena train station every 45 minutes. Book online.
Hours Nov-Mar: daily (holidays included) 9:30am-6pm. Apr-Oct 9:30am-7pm. Closed Christmas and New Year's Day.
Adm €15, €13 students and over 65, €5 6-18 years-old accompanied by parents. Combined tickets with the Museo Enzo Ferrari in Modena €26, reduced €22. Book timed tickets online through the website. Ferrari factory and the Fiorano Test Track tours (book in advance through their website) are another €15 adults, €13 students and over 65, €5 6-18 years-old accompanied by parents.
+39 0536 949713