Museo Enzo Ferrari (Modena)
Dedicated to Modena's Czar of Cars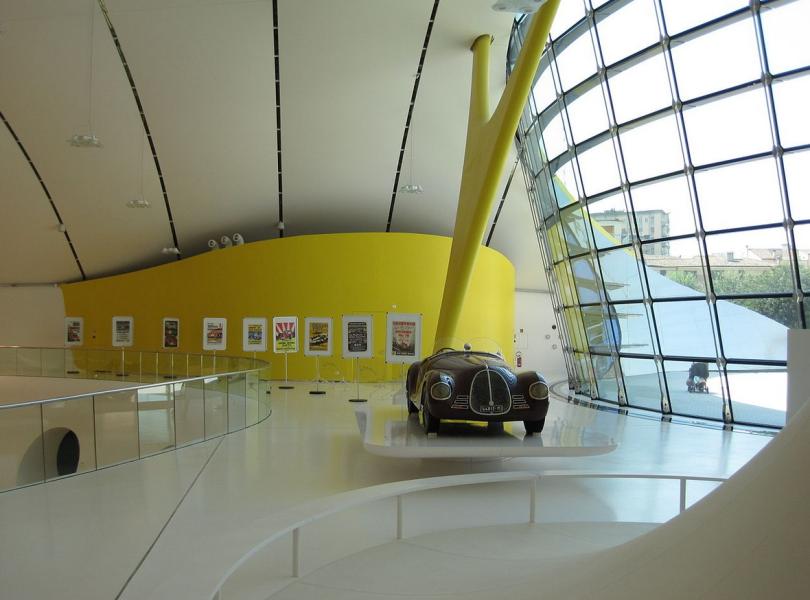 There are two Ferrari museums; this one is in Modena, the other by the factory in suburban Maranello.
Enzo Ferrari (1898-1998) loved his native Modena enough to put the city's yellow on his badge, behind the prancing pony, and Modena loves Ferrari right back. Open in 2012, this museum pays homage to his life and times. The house where Enzo was born, next to the workshop where his father worked on rail carriages, has been restored to house the Museo dei Motori, with various engines on display from a small two cylinder model to F1, along with a collection of race cars and videos.
Next to it rises the curving glass facade of a slick ultra contemporary hall in the shape of a yellow Ferrari bonnet (big enough to get in the faces of workers in the nearby Masserati factory). Films cover Enzo's long, colourful life (he died at age 90, still working on the blue prints of his next car). There are changing exhibits, which not surprisingly focus on cars, set up on white plinths.
There are even three different sized Ferrari-shaped kennels where you can leave your pooch for free while you visit the museum. The museum also hires out bikes for exploring Modena.
Via Paolo Ferrari 85. A dedicated shuttle connects the museum to the Museo Ferrari in Maranello and Modena train station (€12 return; book online).
Hours daily 9.30am-6pm, until 7pm Apr-Oct
Adm €15, €13 over 65; €5 ages 6-18 when accompanied by parents. Under 6 free.
+39 059 4397979