Parco dei Sassi di Roccamalatina
Pinnacles and a Remarkable 11th-Century Church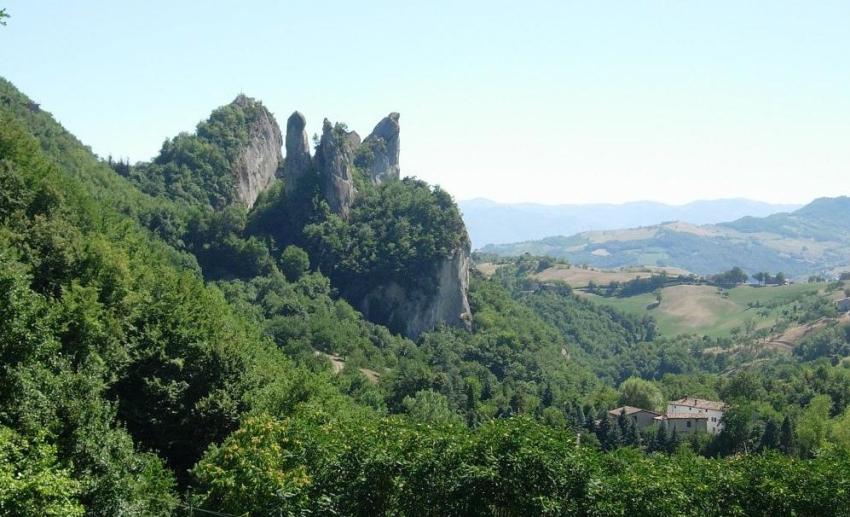 The peculiar sandstone pinnacles of Rocca Malatina rise over the chestnut woodlands and medieval hamlets of the 2300-hectare Parco Naturale di Sassi, a favourite Sunday getaway for the Modenesi (Malatina, the name of the local barons, seems to mean malvagia tignola, the 'evil moth'). In the Middle Ages, the natural grottoes in the sandstone were used for defense (here and there traces of scaffolding survive); peregrine falcons and kestrels soar overhead. Paths criss-cross the region, including one up to the main rock above the hamlet of Borgo dei Sassi; pick up a map at the park information headquarters.
There's a park info and nature centre, the Centro Parco 'Il Fontanazzo' with a small museum of the area's natural history. Another museum dedicated to food; the Museo del Castagno e Museo-Laboratorio del Borlengo: celebrates the local cherries and chestnuts, as well as the traditional crepes and flatbreads of the region: tigelle, crescentine and borlenghi.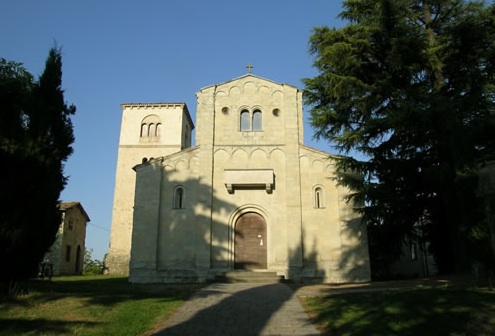 The park's jewel, however is a charming country church, the Pieve di Trebbio. Built in the 10th or 11th century over a Carolingian church, which in turn replaced a pagan religious site, it's one of the most important churches in the region, packed with primitive Celtic-Lombard details and artistic quirks. Interestingly, it seems to have once belonged to the Templars.
For starters, it sports a very unorthodox sarcophagus stuck right in the middle of the façade, probably from the 6th century, similar to ones were found in Ravenna, and decorated with peacocks (the peacock, which grows new tail feathers each year, was a symbol of resurrection and renewal). An ornamental architrave carved with Celtic knots from the 8th century spans the side door.
The church has two semi-circular apses and a polygonal one, is decorated with intriguing Celto-Lombard reliefs, including a Lombard capital with a hand holding a bouquet, a pulpit with a very rare winged figure of St John the Evangelist holding a codex taken straight from early Byzantine iconography. A dove decorates the ciborium over the altar. There's a tiny crypt, which once held a relic of St John.
The charming little octagonal baptistery, with its moss covered roof, resembles a well inside, used for full immersion baptisms (although some say it was too small to really be used and was built as a symbol). Inside is a fresco with the Baptist, dressed in a short tunic and boots instead of the usual animal skin. The stout campanile was originally a defensive tower.
Centro Parco 'Il Fontanazzo, Loc. Pieve di Trebbio, Roccamalatina
Hours Easter through Sept: Mon-Sat 8.30am-1pm; Mon & Wed also 3-5pm; Sun 10am-6pm.
+39 059 795721
Museo del Castagno, Loc. S. Giacomo; Sun and hols Easter-Nov only, 10-12, 3-7; in Aug open daily.
Pieve di Trebbio; by the park centre. Guided tours on certain Sundays with Etcetera book at +39 328 845 8574