Canozzi da Lendinara
Intarsia Masters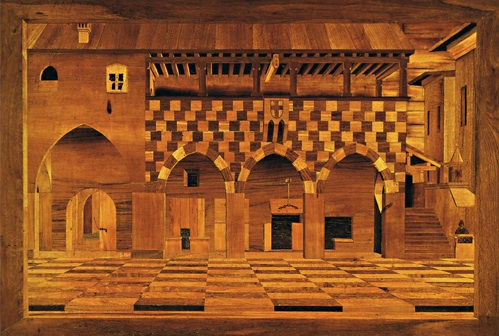 The Canozzi (or Canòzi) were a family of quattrocento artists from the town of Lendinara in the Veneto. Father Andrea was trained as a carpenter, and his sons Ludovico, Lorenzo and Cristoforo all worked in intarsia, and they were known for their skill in creating wooden choir stalls, translating the new styles of the early Renaissance into that medium—with some advice from Piero della Francesca. Much of their best work was completed in Padua and Parma.
Cristoforo and Lorenzo, perhaps the most talented of the family, spent the 1460's in Modena, where they made the choir stalls for the Duomo and other works now in the Galleria Estense). Cristoforo and Lorenzo were both also painters and woodcarvers.
In older works the family name is sometimes given as 'Genesini'.