Alfonso Lombardi
Maestro of Terracotta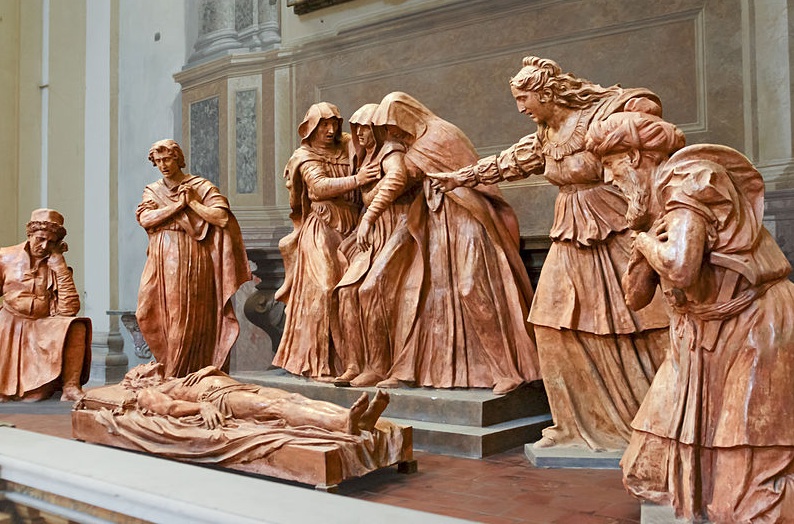 A native of Ferrara, sculptor Alfonso Lombardi (ca. 1497-1537) was trained in the circles of Este court, creating small figures and medals of the ducal family (all of which have unfortunately been lost) that first made his reputation.
At age 20 Lombardi moved to Bologna, where he spent the rest of his life and left all his work, starting with the terracotta statue of Hercules battling the Hydra, in the Palazzo d'Accursio. It was such a success that he was immediately commissioned by the most important confraternity in Bologna, the Confraternità dei Battuti Bianchi, to make a terracotta tableau on the Death of the Virgin for the Oratory of Santa Maria della Vita, a powerful work that would see him always employed thereafter. He worked on decorative elements in San Domenico (the Arca and Cappella Ghisilardi) side by side with Michelangelo and the great Sienese sculptor Baldassarre Peruzzi.
At the peak of his glory Lombardi was chosen along with Amico Aspertini to decorate the triumphant arch to mark the coronation of Charles V. The Gonzaga Duke Federico II in Mantua had just commissioned him to make his father's tomb, after rejecting a design by Raphael, when Lombardi suddenly died.
Although not well known today outside of Bologna today, Lombardi was sufficiently renowned in the 16th century to get a chapter in Giorgio Vasari's Lives of the Artists (Vasari had had a chance to meet him and see his work when he himself frescoed the refectory at San Michele in Bosco (in a part of the hospital not open to visitors).
Vasari admitted Lombardi was handsome 'but vain' and worked 'more for pleasure and vainglory than out of any real desire to wield the chisel', a comment that reflects Vasari's Tuscan prejudice against sculptors who worked in clay instead of marble. Yet one of his works, the Lamentation over the Dead Christ, made for the nuns of Santa Margherita, was so moving and beautiful that it was removed by the order of a visiting cardinal to St Peter's in Rome.
Other works by Lombardi include the Lamentation of the Dead Christ in Bologna's Cathedral, San Pietro; the four terracotta statues of the Patron Saints on the Torre dell'Arengo of the Palazzo del Podestà; the marble lunette of the Resurrection and the side doors (1526–32) of the basilica of San Petronio and a figure of St Bartholomew for Santa Maria della Pioggia.