Girolamo Curti
'Big Tooth'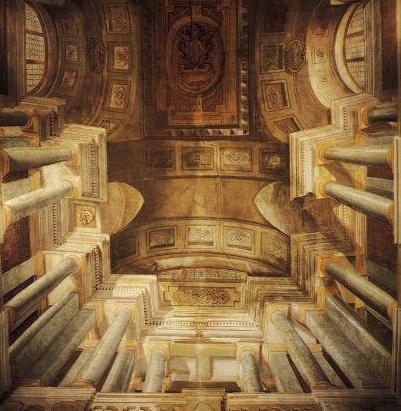 Born in Bologna, Girolamo Curti (1570–1631) studied with Leonello Spada. He got his break in 1621 when a fellow Bolognese, Alessandro Ludovisi, was elected as Pope Gregory XVI. As was the custom at the time, upon his accession Gregory looted the Papal treasury, found posh positions for all his relatives, and began work on a sumptuous family palace (the famous Villa Ludovisi, now demolished). Gregory brought Curti to Rome and found him work; unfortunately the Pope only lasted two years, and Curti didn't find success after his death.
After that he worked in Modena, did ceilings for Bolognese palaces and stage sets in Ferrara (including some for a Monteverdi opera). Never a particularly inspired painter, he was nonetheless recognized as a master of quadratura painting, to which he applied mathematical principles with a new exactness. Curti was described as a modest fellow who worried his patrons were overpaying him, also a supremely happy soul who liked a laugh, and apparently didn't mind being called 'Big Tooth'. Art books and museums still often attribute his works to Il Dentone.
In Modena Curti worked on the Palazzo Ducale and various churches. In Bologna he and his student and later partner Angelo Michele Colonna painted the Galleria del Legato (Sala di Dentone) in the Palazzo Comunale. He was working on the ceiling of San Carlo when he died in 1631.