Palazzo Bocchi
Palace of a Renaissance Humanist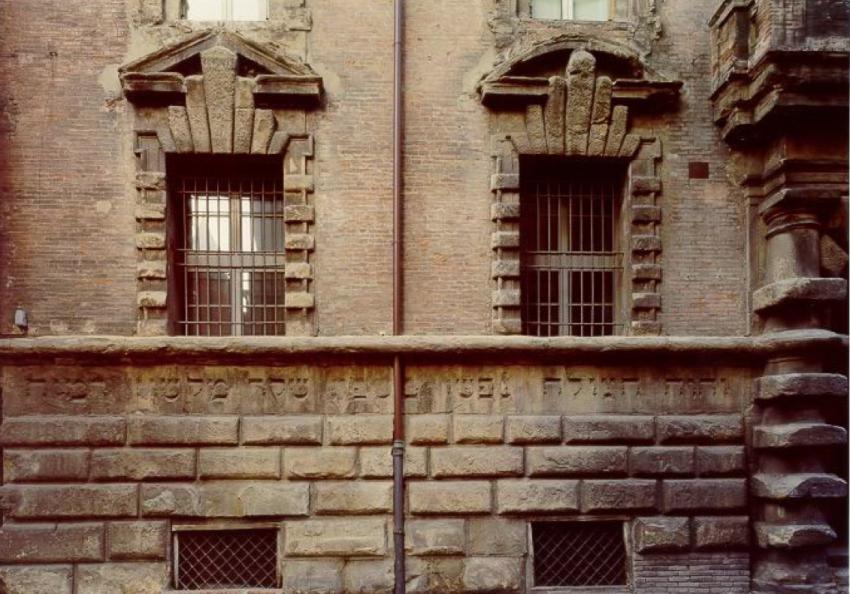 This mightily rusticated palazzo was designed by the great Vignola and Sebastiano Serlio for Humanist scholar and University professor of law, Achille Bocchi (1488-1562), who was fascinated with Hebrew as well as the Greek and Latin that were de rigueur for a Renaissance scholar. Bocchi needed a locale for his new Academia Bocchiana or Ermatena (a name he derived from Hermes, god of messages and eloquence, and Athena, goddess of wisdom).
In 1555, Bocchi published his best known work, a book of emblems called Symbolicarum quaestionum de universo genere 'covering all of universal knowledge'. Emblem books were the rage in the Renaissance: the emblem was an allegorical illustration, accompanied by an explanatory poem or moral.
Bocchi went a step further than most writers by having emblems engraved on the façade of his palace. The Latin one is taken from the First Epistle by Horace: Rex eris, aiunt, si recte facies (Do well, thou shalt be crowned).
What sets it apart from other palazzi in Bologna, not to mention all of Europe, is verse from Psalm 120 of the Jewish Psalter in Hebrew, which translates:
Deliver my soul, 0 Jehovah, from lying lips, And from a deceitful tongue.
Via Goito 16
Hours Not open to the public