Vecchione
Out With the Old Year, In With the New
Similar to traditions in many parts of north Italy, Bologna burns a giant figure representing the Old Year as part of the New Year's Eve celebrations in Piazza Maggiore. The Vecchione ('Old Man') is usually about 30ft tall and always excellently flammable. Each one is the result of a design competition, created by a local artist and constructed by a carnival society in the village of San Matteo della Decima and its volunteers.
2016's version, as is often the case, wasn't an 'Old Man' at all, but a 'Torre degli Asinelli' in mocking reference to the medieval landmark just around the corner. This droll tower consisted of four asses atop a pyramid, each standing on the back of the one beneath. The four allegorically represented 'ostentation, stubbornness, obtusity and submissiveness', and before the match was even set locals were joking that these were the qualities not only of donkeys, but of the Bolognese themselves.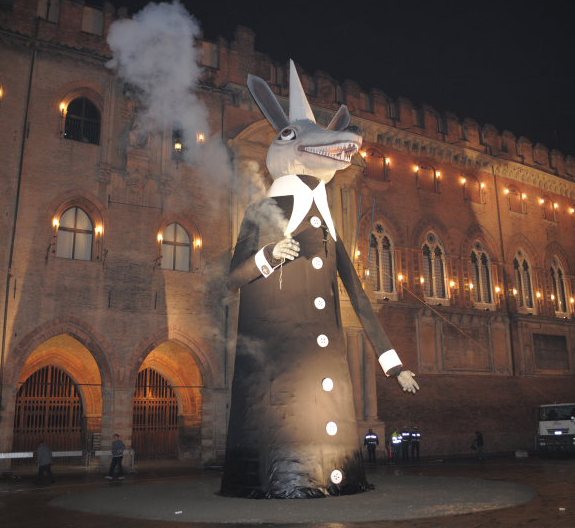 This (above) was the 2009 version, by Ericailcane.
Text © Dana Facaros & Michael Pauls
Images by Comune di Bologna, estense.com