Torre Uguzzoni
Tower of the Ghetto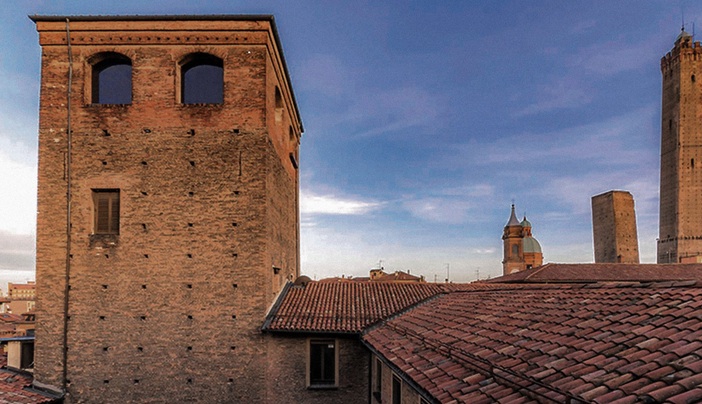 Built in the late 12th century by the Ghibelline Ugozzoni family, this 32m tower house occupies one of the most evocative medieval corners of Bologna, with its dark, narrow alleys and archways.
In 1367, the tower became the property of the Ludovisi and in 1554 was the birthplace of Alessandro Ludovisi, future Pope Gregory XV. The year after his birth, the hard-line bigot and former Inquisitor Pope Paul IV issued the bull Cum nimis absurdum creating ghettos in all the cities of the Papal States ("Since it is absurd and utterly inconvenient that the Jews, who through their own fault were condemned by God to eternal slavery..."), and the Torre Uguzzoni became a part of the walls of the Jewish ghetto; the gate was located in the narrow Vicolo Tubertini.
In the 18th century, the Palazzo Tubertini was built around the tower, and the top floor was converted into an altana or roofed terrace. The whole complex has recently been made into luxury residences.
Vicolo Mandria 1