Palazzo Vizzani-Sanguinetti
Palace of Scholars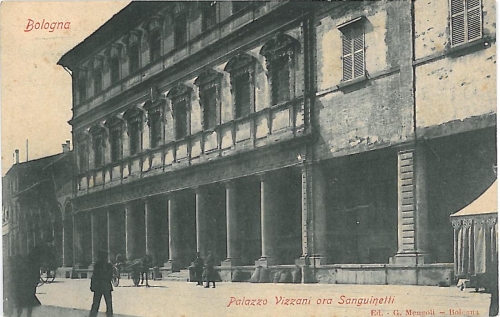 This palazzo, designed by Bartolomeo Triachini, was built (1549-62) for one of the most prominent families of the city. The heirs of its builder, brothers Pompeo and Camillo Vizzani, made it the home of their Accademia degli Oziosi ('of the men of leisure') dedicated to literary discussions and research. Triachini gave the Vizzanis an unusual facade with more than a tinge of Mannerism, featuring a relief frieze of triglyphs and metopes in the manner of a Greek temple, over a graceful portico of columns in the Tuscan order.
Inside, some of the original decoration remains: works by Pellegrino Tibaldi, including a painting of the Blinded Polyphemus. There is also a chapel with 18th-century frescoes.
Today the Palazzo, recently restored, is largely occupied by a University library, and not normally open to visits.