Musei Universitari (Modena)
Scholarly Folk Only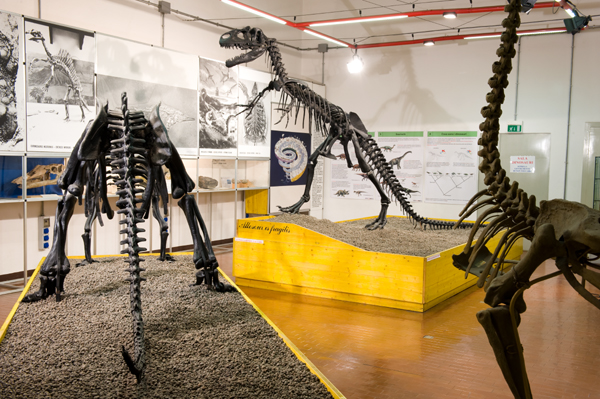 Modena's University has been collecting things for centuries. The results are kept in six separate small museums, old-fashioned and a little dusty, seldom visited and relentlessly didactic—museums that are almost museum pieces in themselves. Two of the Musei Universitari are in the main building on Via Universitá; the others are scattered around town. All are open by appointment only.
Museo di Zoologia e di Anatomia Comparata
A peculiar museum packed full of specimens, with thousands of skeletons, fossils and poor sad creatures in formaldehyde. It has resisted any and every urge to go interactive and high tech: it's a treat for anyone who loves old fashioned wooden cases of specimens (3300 vertebrates) with handwritten tags. They're proudest of their collections of parasites, poisonous animals and parrots.
Via Università 4; +39 059 2056561
Museo Astronomico e Geofisico
The University opened its astronomical observatory in 1826. They never threw anything away, leaving this interesting collection of old telescopes and instruments, maps and charts; right now they're working on the restoration of the observatory in the dukes' gardens as it was in 1896.
Piazza Roma (in the east tower of the Ducal Palace); +39 059 222239
Laboratorio delle Macchine Matematiche
Somewhere in the world there must be a few geometers who will find this the most fascinating museum in Italy. It's a collection of geometrical instruments from the 16th to the 19th centuries, plus reconstructions of instruments from the ancient world, that includes everything from pantographs to perspective devices to a gadget that would supposedly let you trisect an angle.
Via Campi 213/b (off Via Vignolese southeast of the centre): +39 059 2055039
Museo di Paleontologia
The highlight here is the Sala dei Dinosauri, with two recently reassembled skeletons found in Utah. The rest will only be of interest to specialists, such as the collection of otoliths (structures of the inner ear) from prehistoric fish, and the historic collection of microfossils.
Via Università, 4; +39 059 2055832
Museo di Anatomia Umana e Teatro Anatomico
A smaller version of the medical museums of Bologna's University, this one offers beautifully-made terracotta and wax models of the human anatomy used by Baroque-era medical students, and an ornate wood-panelled operating theatre from the 18th century.
Via Berengario 14; +39 059 2057131
The University Museums also operates the Botanic Gardens near the Ducal Palace.
Via Universitá 4; +39 059 2056561
Gemma: Museo Mineralogico e Geografico Estense
It's been around since 1786; the last Dukes took a surprising interest in the subject. As you would expect the collection includes lots of mineral specimens, but there is also a set of 'historic meteorites' they've been building since the 18th century.
Largo S. Eufemia 19 (west of the Duomo); +39 059 2055873