Nanni di Banco
Talented Contemporary of Donatello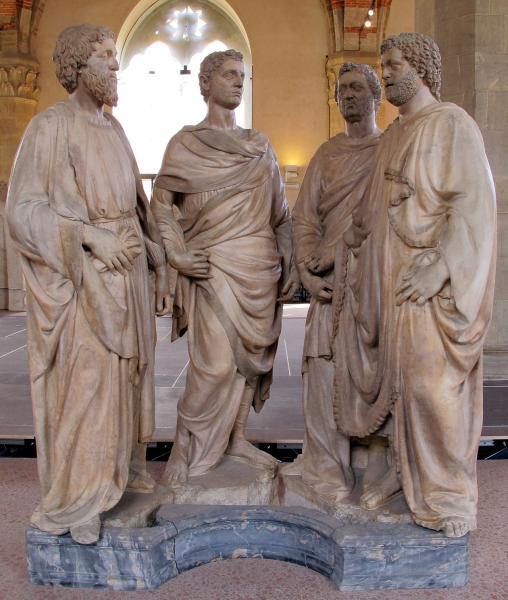 Son of sculptor and stone mason Antonio di Banco, Nanni di Banco (1384–1421) was a Florentine sculptor at the dawn of the Renaissance. Along with his contemporaries Donatello and Ghiberti, he was responsible for the move away from the late Gothic to more individualistic, natural looking figures, although more than the others he was inspired by Roman models.
Unlike his far better known colleagues, however, Nanni died fairly young. In his day, however, he was one of the leading members of the guild of stonemasons and woodcarvers (Maestri di Pietra e di Legname). Although it was one of lesser guilds, Nanni was important enough to be chosen in 1418 as one of the twelve Buonuomini, a rare achievement for a sculptor.
He was also chosen to make the patron saint sculpture for his guild's niche in Orsanmichele. According to the Golden Legend, the Four Crowned Martyrs were themselves stone masons executed under Diocletian, so Nanni portrayed them in Roman dress, conversing (to squeeze them into the niche). A lively relief below shows them hard at work. The original figures, now in the Orsanmichele Museum, were recently restored; originally their hair and beards were covered with gold.
Nanni also sculpted several other saints for Orsanmichele's facade, and worked on the Duomo's beautiful Porta della Mandorla, sculpting several prophets (most of which are now in the Museo dell'Opera del Duomo). He also created on a now lost model of the cathedral with Donatello and Filippo Brunelleschi.
His best known student was Luca della Robbia.