Renaissance Art & Architecture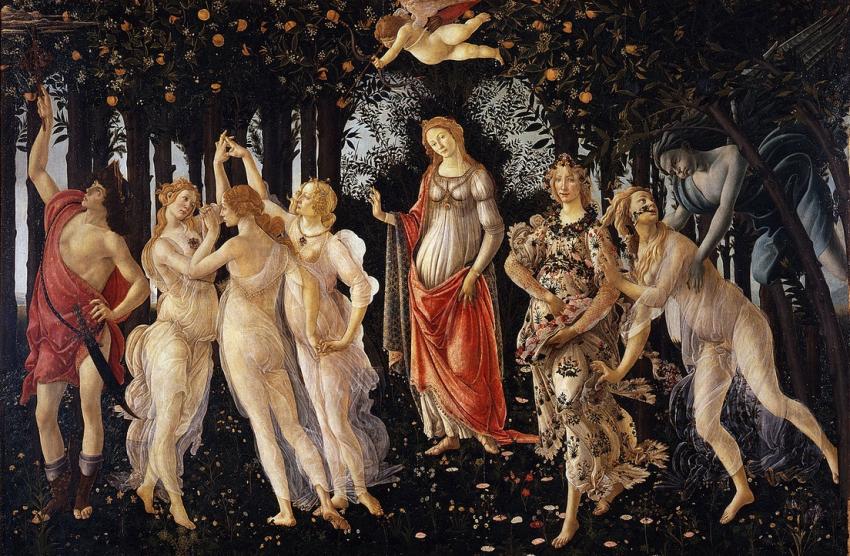 Under the assaults of historians and critics over the last two centuries, the term 'Renaissance' has become a vague and controversial word. Nevertheless, however you choose to interpret this rebirth of the arts, and whatever dates you assign to it, Florence inescapably takes the credit for it.
This is no small claim. Combining art, science and humanist scholarship into a visual revolution that often seemed pure sorcery to their contemporaries, a handful of Florentine geniuses taught the Western eye a new way of seeing. Perspective seems a simple trick to us now, but its discovery determined everything that followed, not only in art, but in science and philosophy as well.
Leading what scholars used self-assuredly to call the 'Early Renaissance' is a triumvirate of three geniuses: Brunelleschi, Donatello and Masaccio. Brunelleschi, neglecting his considerable talents in sculpture for architecture and science, not only built the majestic dome of Florence cathedral, but threw the Pandora's box of perspective wide open by mathematically codifying the principles of foreshortening.
His good friend Donatello, the greatest sculptor since the ancient Greeks, inspired a new generation of both sculptors and painters to explore new horizons in portraiture and three-dimensional representation.
The first painter to incorporate Brunelleschi and Donatello's lessons of spatiality, perspective and expressiveness was the young prodigy Masaccio, who along with his master Masolino painted the famous Brancacci Chapel in Santa Maria del Carmine, studied by nearly every Florentine artist.
The new science of architecture, sculpture and painting introduced by this triumvirate ignited an explosion of talent unequalled before or since – a score of masters, most of them Tuscan, each following the dictates of his own genius to create a remarkable range of themes and styles.
To mention only the most prominent: Lorenzo Ghiberti, who followed Donatello's advice on his second set of Baptistry doors to cause a Renaissance revolution; Leon Battista Alberti, who took Brunelleschi's ideas to their most classical extreme in architecture, creating new forms in the process; Paolo Uccello, one of the most provocative of artists, who according to Vasari drove himself bats with the study of perspective and the possibilities of illusionism; Piero della Francesca, who explored the limits of perspective and geometrical forms to create the most compelling, haunting images of the quattrocento; Fra (Beato) Angelico, who combined Masaccio's innovations and International Gothic colours and his own deep faith to create the most purely spiritual art of his time; Andrea del Castagno, who made use of perspective to create monumental, if often restless, figures.
And still more: Benozzo Gozzoli, whose enchanting springtime colours and delight in detail are a throwback to the International Gothic; Antonio and Piero Pollaiuolo, sons of a poultryman, whose new, dramatic use of line and form, often violent and writhing, would be echoed in Florentine Mannerism; Fra Filippo Lippi, a monk like Fra Angelico but far more earthly, the master of lovely Madonnas, teacher of his talented son Filippino Lippi; Domenico Ghirlandaio, whose gift of easy charm and flawless technique made him society's fresco painter; Andrea del Verrocchio, who could cast in bronze, paint, or carve with perfect detail; Perugino(Pietro Vannucci) of Umbria, who painted the stillness of his native region into his landscapes and taught the young Raphael; and finally Sandro Botticelli, whose highly intellectual, but lovely and melancholy, mythological paintings are in a class of their own.
Some of Donatello's gifted followers were Agostino di Duccio, Benedetto da Maiano, Desiderio da Settignano, Antonio and Bernardo Rossellino, Mino da Fiesole and perhaps most famously Luca della Robbia, who invented the coloured terracottas his family spread throughout Tuscany.
The 'Early Renaissance' came to a close near the end of the 1400s with the advent of Leonardo da Vinci, whose unique talent in painting, only one of his hundred interests, challenged the certainty of naturalism with a subtlety and chiaroscuro that approaches magic. One passion, however, obsessed the other great figure of the 'High Renaissance', Michelangelo Buonarroti: his consummate interest was the human body, at first graceful and serene as in most of his Florentine works, and later, contorted and anguished after he left for Rome.