Piero della Francesca
Quattrocento Magic Painter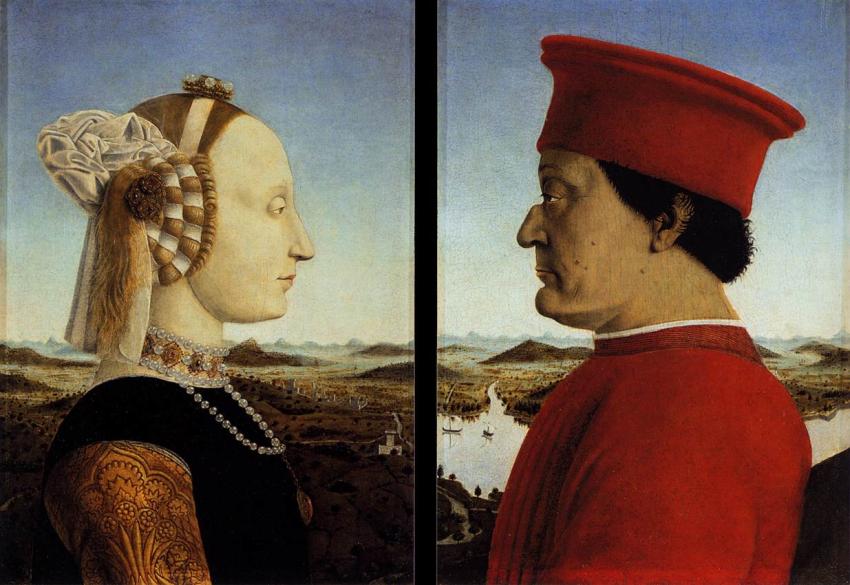 Piero della Francesca (c.1415–92) born at Sansepolcro, was one of the really unique quattrocento artists. Piero wrote two of the most important theoretical works on perspective, then illustrated them with a lifetime's work reducing painting to the bare essentials: geometry, light and colour.
In his best work his reduction creates nothing dry or academic, but dreamlike, almost eerie scenes similar to those of Paolo Uccello. And like Uccello or Botticelli, his subjects are often archetypes of immense psychological depth, not to be fully explained now or ever.
His one work in the Uffizi, the Double Portrait of the Dukes of Urbino, Federigo da Montefeltro and Battista Sforza (1465-72) has that eternal unearthly quality. The Duke, renowned patron of the arts, but who lost an eye and had a broken nose from his career as a condotierre, probably insisted on the profile pose. The landscape in the background is beautiful, if nothing like Urbino. On the reverse, the pair are shown in triumphs: Battista in a wagon pulled by chaste unicorns, Federigo in armour, crowned with victory.