Luca della Robbia
Chief of the Terracotta Clan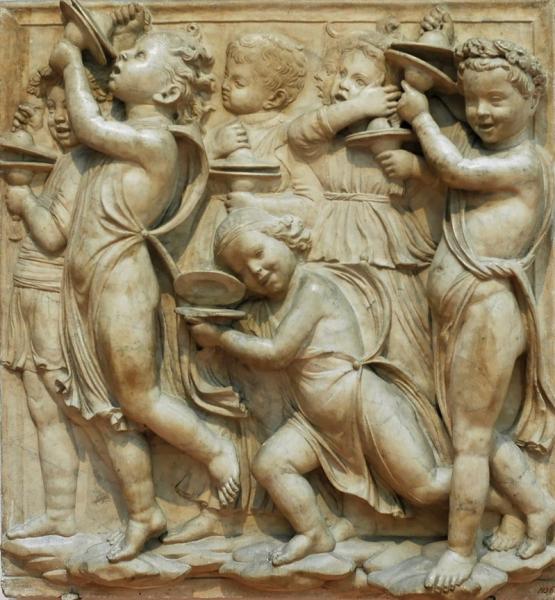 Florentine Luca della Robbia (1400–82) was the greatest of the famous family of sculptors, inventor of the coloured tin glaze for terracottas that we associate with the della Robbias.
Luca was also a first-rate relief sculptor. He helped Lorenzo Ghiberti sculpt on the doors of the Baptistry, and under the watchful eye of Filippo Brunelleschi he created his first and most delightful compostion, the Cantoria or singing gallery for the cathedral, today in the Museo dell'Opera del Duomo, 1431-38), alongside the Cantoria by Donatello, commissioned two years later. Both were actually used as organ pulpits, but dismantled in the 17th century for a Medici wedding
He also sculpted several figures on for Giotto's Campanile the well as the Sacristy doors for the Duomo, and the beautiful tomb of the bishop of Fiesole, now in Santa Trínita.
He began to work in terracotta in the 1440s with his special secret glaze, creating freestanding plaques but also the beautiful ceiling in San Miniato al Monte and the Apostles in the Pazzi Chapel in Santa Croce. Also seek out his works in the Bargello, Museo degli Innocenti, Museo della Misericordia, Orsanmichele, in the Collegiata in Impruneta, the Museo Bandini in Fiesole and the Piève at San Piero a Sieve.
Luca's large house became his workshop, where his nephew Andrea della Robbia (1435–1525) and Andrea's son Giovanni (1469–1529) would carry on, filling innumerable buildings across Tuscany with glazed terracotta pieces, although few ever equalled the beauty of Uncle Luca's.
Always admired in his hometown, Luca was elected head of the Florentine Guild of Sculptors in 1471 but refused because of his age.